Lumikai has released the latest State of India Gaming Report in partnership with Amazon Web Services (AWS) that brings to light several interesting pieces of information like the growth of the e-sports market including paying users, women players, and demand for India-themed games. It has surveyed 2,240 smartphone users from various places and demographics.
Here are 3 fascinating findings from the report:
State of Indian Gaming Report highlights
1. Growing participation and payments in the gaming industry
According to the report, the number of gamers in India grew fourfold year on year from 150,000 in 2021 to 600,000 in 2022. It could jump another 2.5x in the coming 5 years to hit 1.5 million users by 2027.
The whole industry reportedly raked in $40 million last year and is said to touch $140 million by 2027 at a CAGR of 32 percent.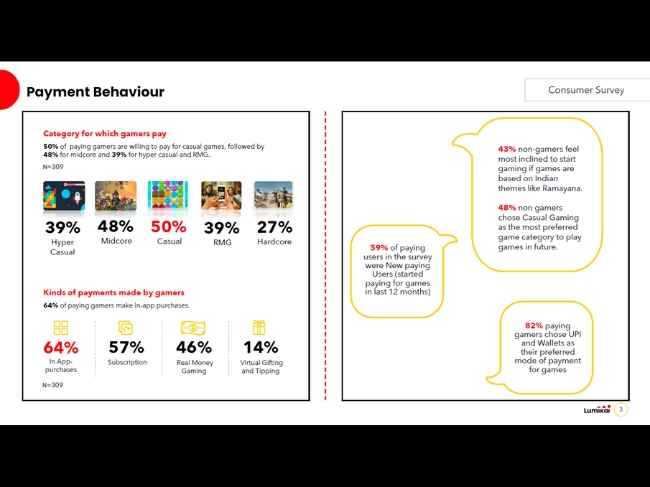 Well, the players are not only participating, but they are also paying up as around 64% of paying gamers spend on in-app purchases, and about 57% of them are on subscription payments. 
Overall, a large percentage of players up to 59% have apparently started spending on games in the last year. More of these players (around 50%) are interested in casual games, closely followed by a demand for mic-core titles at 48% and finally, hyper-casual and RMG games at 39 percent. 
The potential to earn is the key impetus for 45% of paying players. Willingness to pay and better content as well as in-game goodies also excite players to pay up.  
2. Change in gaming preferences
As already discussed, more people are playing casual games like Candy Crush and Ludo King. Not only that, a significant number of players at about 35% have revealed that they have increased their play hours in the last 12 months.
An exciting thing we learned is the growing love for Indian-themed video games. This includes 82% of gamers interested in Indian mythology, 79% looking for games with Indian themes and history, and 78% prefer games based on Indian celebrities.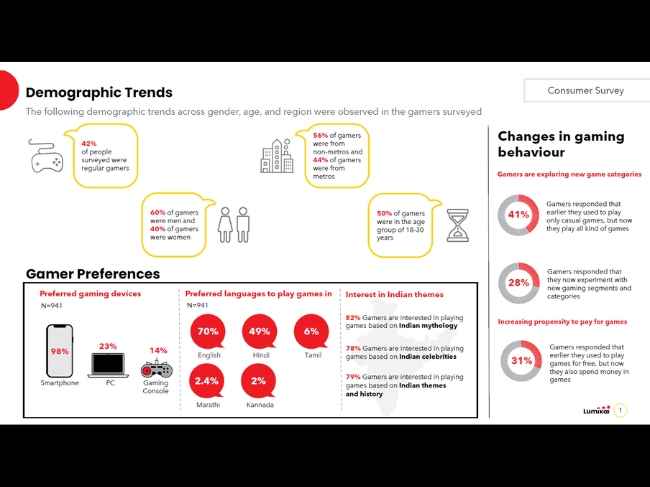 3. Behavioural trends in the gaming space
Some notable behavioural patterns include 98% of Indian gamers on smartphones, 23% playing on PCs/laptops and 14% on gaming consoles. Most of these players (at about 56%) reside in non-metros. The players are spending 8.5-11 hours per week and interestingly, women tend to spend more hours playing than men. The average time spent per week was highest in games like BGMI and Clash of Clans while more hardcore games like DOTA 2 and Genshin Impact were close second.
Tags:
State of India Gaming Report
Lumikai
AWS
Gaming
Games
Indian gaming
Gaming in India