The "Pre-built gaming PC" is a term that's sure to send your average gamer into a frenzy and it's mostly justified. Unlike gaming consoles, the entire concept of gaming PCs is total control over the hardware. The user owns every single cable that goes in their PC and likely has a warranty for every single part as well. A "Pre-built gaming PC" is a PC in every way just slapped with high prices and some custom-made parts. However, such pre-built machines are quite desirable if they are made by OEMs that also make individual PC components. ASUS is one such example. This is why today we're taking a look at the ASUS ROG G10CE gaming desktop, powered by an Intel 11th Gen CPU and an Nvidia GTX 1650. 
ASUS ROG Desktop G10CE Performance Review: Specs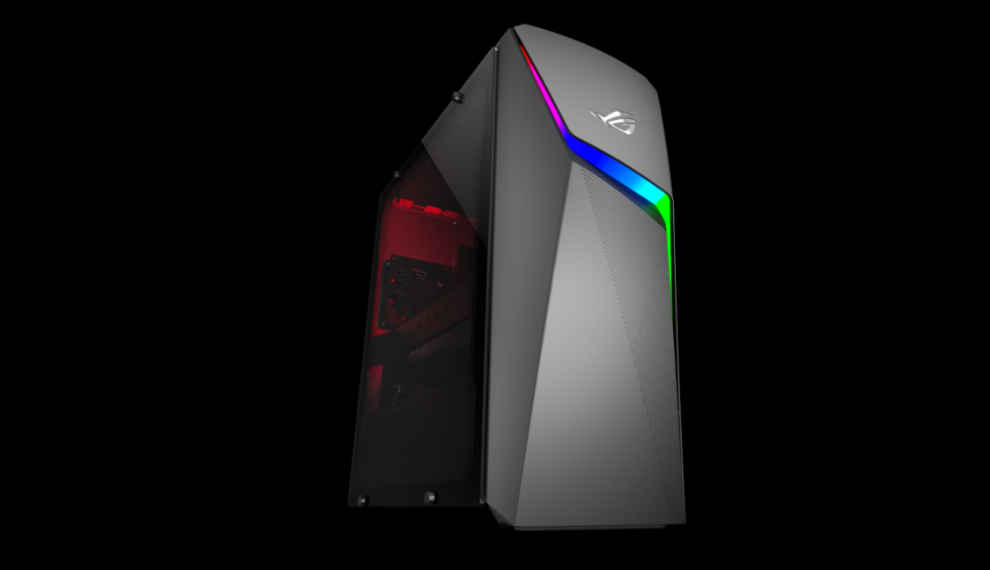 Processor: Intel Core i5 11400F 6-core 12-thread 2.20GHz base frequency and 4.40GHz Turbo boost frequency
Graphics Card: Nvidia GTX 1650 4GB GDDR6 VRAM
Memory: 8GB DDR4 Single Channel memory
Storage: 512GB SSD and 1TB HDD
Expansion Slots: 1 x PCIe 4.0 x 16, 2 x PCIe 3.0 x 1, 1 x M.2 Socket for Wi-Fi, 2 x M.2 Socket for storage, 4 x DDR4 U-DIMM slot
Front I/O: 2 x USB 3.2 Gen 1 Type A, 1 x 3.5mm combo audio jack 
Rear I/O: 1 X RJ45 Gigabit Ethernet, HDMI 1.4, 2 x Display Port 1.2, 2 x PS2, 3 x Audio Jacks, 2 x USB 2.0 Type-A, 4 x USB 3.2 Gen 1 Type-A
Chipset: Intel B560
Connectivity: Intel WGI219V 10/100/1000 GbE LAN, Wi-Fi 6, Bluetooth 5.2
Power Supply: 500W (80+ Gold, peak 550W)
Size: 27L capacity and 8Kg weight
ASUS ROG Desktop G10CE Performance Review: Benchmarks
As mentioned above, the ASUS ROG Desktop G10CE comes equipped with an Intel Core i5-11400F Hexa core CPU. It is paired with an Nvidia GTX 1650 and 8GB DDR4 RAM running in single-channel mode. The desktop is loaded with 512GB SSD storage functioning as the primary device, so booting up the machine is no issue. With these specs, I am pretty sure I have established how the performance of this machine is going to be. Nonetheless, here's a look at its individual components.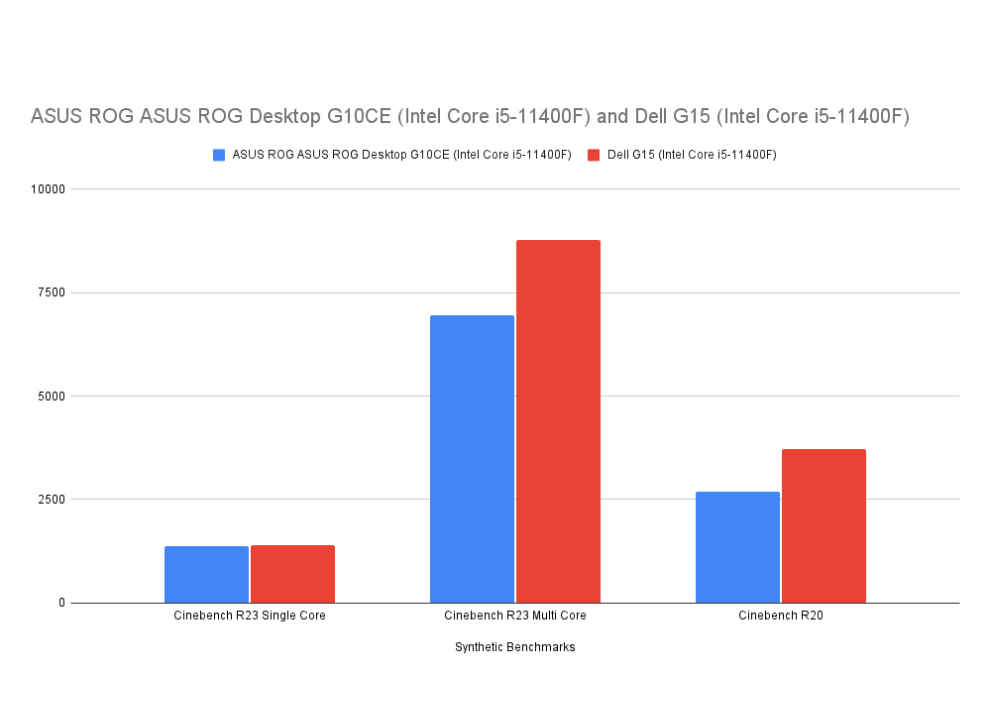 The Intel Core i5-11400F performed decently well in Cinebench R23 and R20. It had a somewhat low multicore score because of just 8GB DDR4 RAM but its single-core performance is rock solid. The advertised TDP of the CPU is 65W and it reaches the same whenever performing tasks under load. The CPU advertised Turbo Boost frequency is 4.4GHz, and all the six cores reach this figure whenever any multi-threaded workload is assigned to it. The best part about the CPU and the ROG Desktop chassis as a whole is airflow. Under the Cinebench R23 Multicore throttle test, the CPU did not exceed 80 degrees Celcius, which is pretty great especially considering the current ambient weather. The CPU can support 20 PCI Express lanes and can support a maximum memory of 128GB DDR4-3200MHz. Overall, ASUS's choice for the CPU is great considering its thermal efficiency and performance. However, the lack of a single USB Type-C port on the desktop seems like an issue.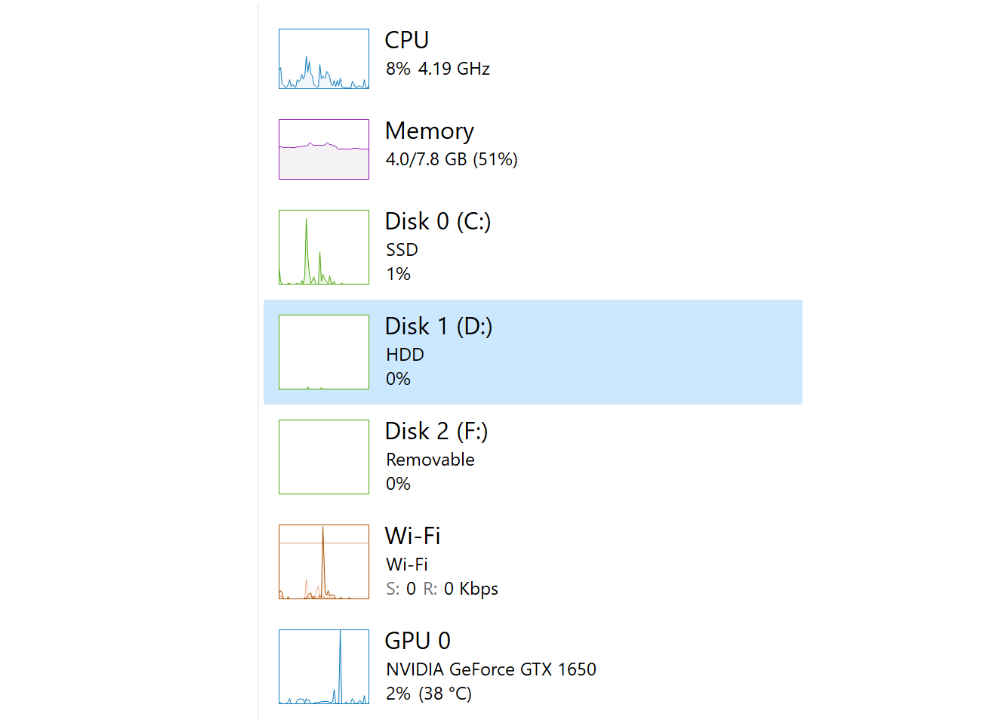 Another thing that I noticed was the lack of bloatware on the PC. Under idle conditions, the RAM and CPU usage was quite low. Similarly, the GPU also consumed little to no power under such conditions. The only "extra" software on the desktop was the ROG Armory Crate, but it is used to set manual fan control and profiles, so it's pretty helpful and functionally not bloatware.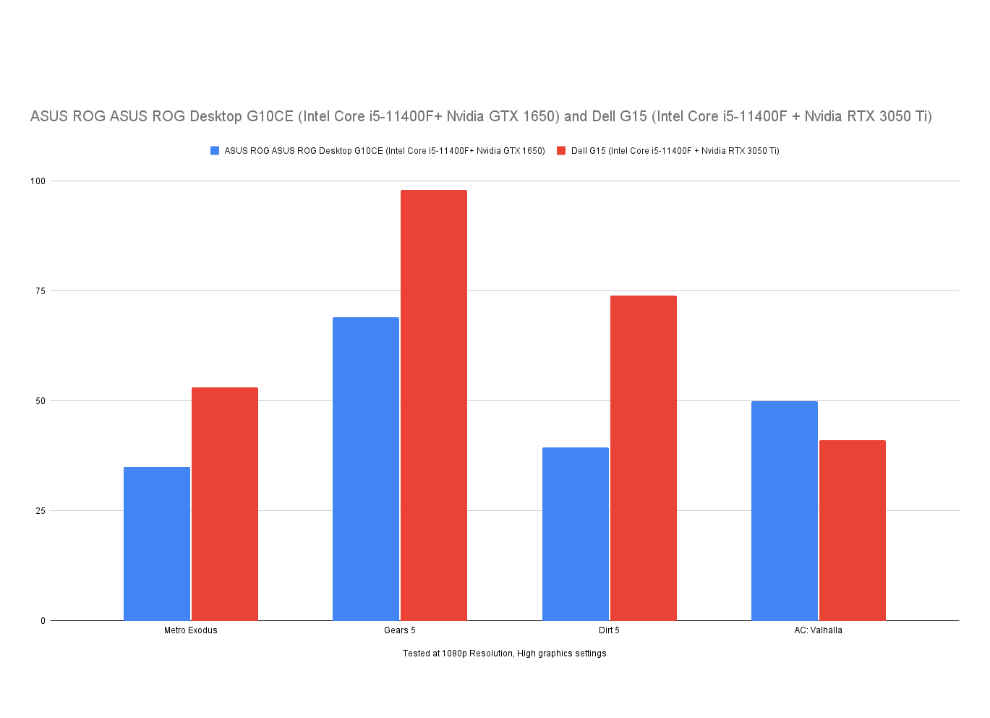 Let's shift our focus to the GPU and it is a bit of a disappointment. The Nvidia 1650 does not hold up well in 2022 and is best suited to play older-gen titles. It struggled to hit 60FPS in demanding games like Metro Exodus and faced severe memory issues while running Assassins' Creed Valhalla at high settings in 1080p resolution. But even here, I'd like to give good marks to the GPU operating temperature, which is fairly maintained under every load, indicating good airflow. Here are some benchmarks for the GPU.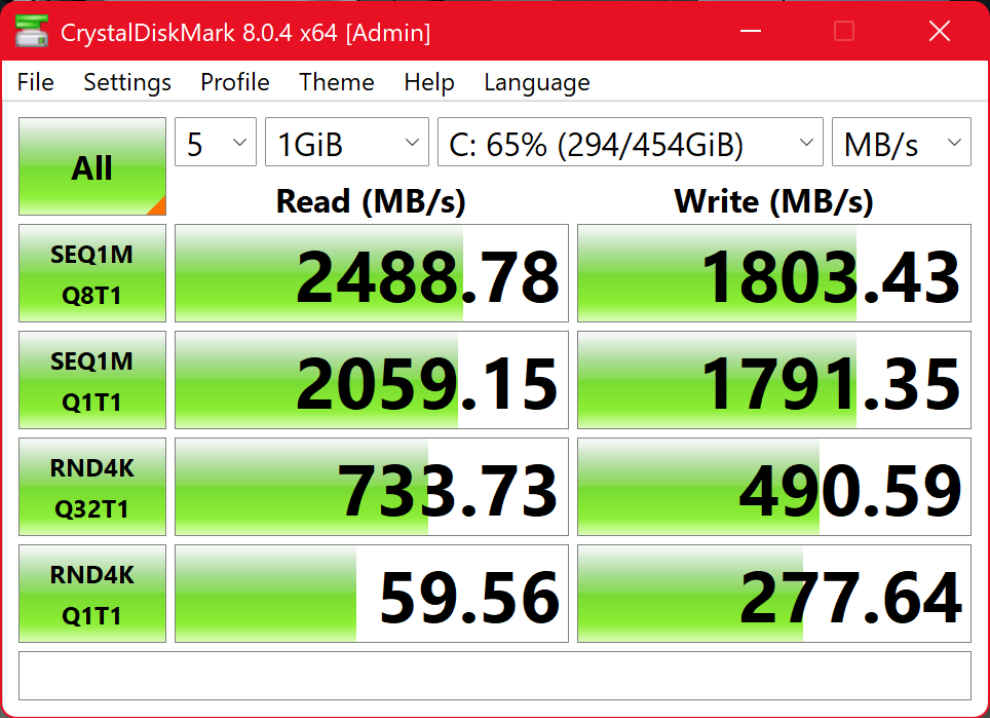 In addition to the GPU, the 8GB RAM also holds the ROG Pre-built gaming PC back. It is a single 8GB stick running in single-channel mode. I strongly believe that low memory is eating up a sizeable portion of the CPUs performance and if you ever plan to buy this gaming desktop then add another 8GB stick. The 512GB storage though is decently fast for all your workloads. Here are its sequential read and write speeds. You can see above how all these components come together to perform in some popular games.
ASUS ROG Desktop Performance Review: Upgradability Options
The ASUS ROG desktop has enough space for future upgradability. Users can add easily add extra RAM as it has 2 DIMMs per channel. Furthermore, the chipset also has a total of 12 USB ports, which should be enough if you wish to connect any external peripheral. The desktop comes with a 512GB SSD and a 1TB HDD but it also consists of an additional M.2 slot as well, which you can further use to add an additional SSD. The desktop also gets a 500W power supply unit which can handle much more powerful GPUs than the GTX 1650. In my experience, a 500W PSU is enough to run an Nvidia RTX 3060 Ti so future upgradability for this desktop looks pretty good. 
ASUS ROG Desktop Performance Review: Verdict
For a pre-built gaming PC, the ASUS ROG Desktop is good, only if you're a beginner to PC gaming. Considering its mostly entry-level specs but future upgradability, it can be a machine with which you start off and upgrade in the future once you get a hang of things. However, in this price range, you can also get an assembled PC with personalized parts, so ultimately the choice is yours. You can choose to go with the ASUS ROG gaming desktop for the ease of owning a pre-built machine but would have to settle with objectively inferior specs. Or you can choose to assemble your own gaming PC from a local shop and get more value for your money. Apparently, there are customers for both of these categories in India.
The ASUS ROG C10CE is currently priced at ₹78,990 in India.