Battlegrounds Mobile India is getting into the spirit of Ganesh Chaturthi. Krafton Inc has announced special in-game celebrations that will give players the chance to earn a bunch of in-game items. Called Ganesh Chaturthi New Beginnings, the event sees players tasked with completing three missions. Once all three are complete, players will get their rewards.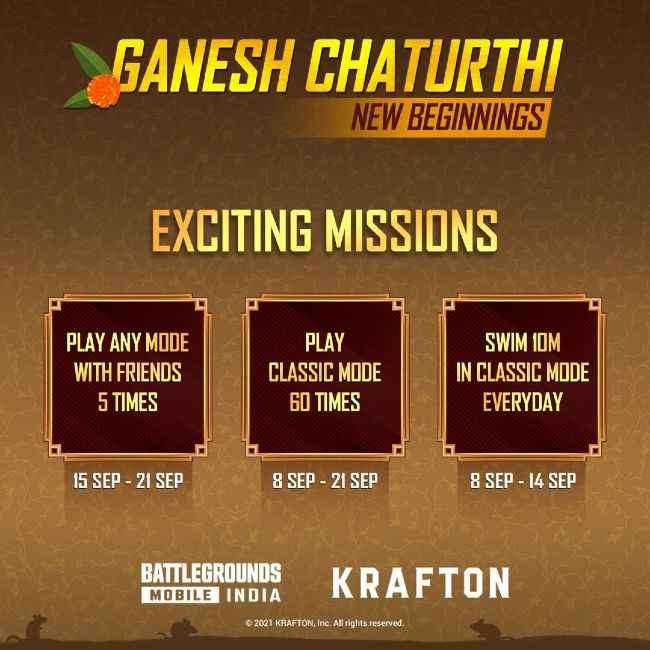 Battlegrounds Mobile India: Ganesh Chaturthi Missions
The first mission can be completed any time between September 8 and September 14. Players will have to swim at least 10m every day in classic mode. The second task asks players to play the classic mode 60 times between September 8 and September 21. The final task needs to be completed between September 15 and September 21. To complete that, players need to play any mode five times with friends. 
Battlegrounds Mobile India: Ganesh Chaturthi rewards
Players who manage to complete all of the missions will get a special in-game Wild elephant shirt permanently. They will also earn Classic crate coupons and in-game currency. 
Krafton Inc recently posted a few FAQs on its official Battlegrounds Mobile India website, which gave us a sneak peek at some of the features that the developers are working on. The developers revealed that they were reviewing the addition of Hindi voice packs, prime subscriptions, and bonus challenges. However, it should be noted that Krafton has not confirmed the addition of these futures, but will notify players if anything is confirmed. You can read more about that here.
Also Read: Battlegrounds Mobile India Bans 1,81,578 Accounts Between Aug 6 And Aug 12