It's good to be bad. A cast of legendary Call of Duty villains are out for revenge, led by none other than crime lord Raul Menendez. Pick a side in the Heroes vs. Villains Community Event, defend or sabotage Caldera in Operation: Last Call, deploy to two new Multiplayer maps, and return to Egypt in the new round-based Zombies experience, "The Archon."
Legends Never Die — Introducing Last Stand
Everything good must come to an end… but bad is forever. Launching August 24 PT, Last Stand gathers Call of Duty's most notorious villains for an epic finale, crammed with masses of free content for both Vanguard and Warzone. Deploy as one of four of the biggest villains in Call of Duty history — the charismatic Raul Menendez, the ruthless Khaled Al-Asad, the brainwashed Gabriel T. Rorke, and the merciless He "Seraph" Zhen-Zhen. They're hell-bent on revenge — if it's the last thing they do.
Check out the Season Five 'Last Stand' Cinematic: https://youtu.be/X5fQ3APBw64
Last Stand is bringing major updates to all three gaming experiences. In Warzone, Caldera's Peak is ready to rumble — will you wreak havoc or defend the island from sabotage? In Multiplayer, deploy to two new fast-paced maps, Beheaded and Fortress. In Zombies, continue the Dark Aether saga and face off against Kortifex the Deathless in Vanguard's round-based finale, "The Archon."
Season Five, the final season of content for Vanguard, goes live on August 24 PT, following an update to Vanguard at 9 AM PT on August 23 and a Warzone update at 9 AM PT on August 24.
Warzone Overview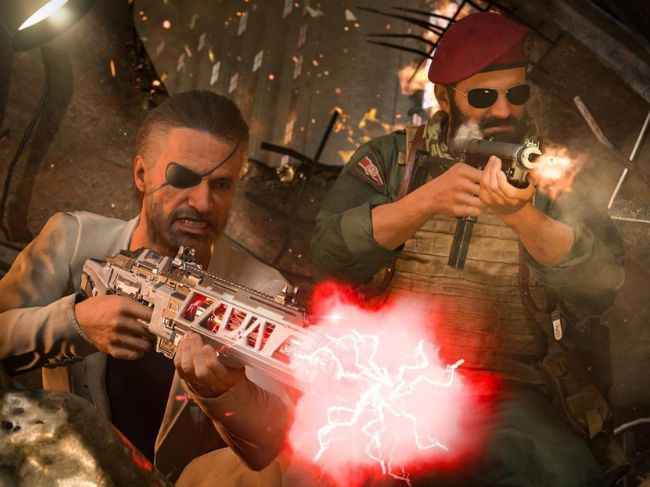 Volcanic Activity at Caldera. Ominous seismic activity is occurring at the Peak. Avoid the lava flowing at your feet and watch for molten rocks shooting sky-high and back down to earth again.

New Caldera Gulag, Lighting Changes. Get back into the match with the new volcanic-themed Gulag inspired by an old favourite. Plus, experience new skies and lighting updates across Caldera and Rebirth Island.

New Tools and Opportunities. Trigger the Doomsday Station and defend your position to earn a unique cosmetic reward along with powerful in-game items. Up your game with the Supply Box UAV, Personal Supply Box, and Rage Serum. 

Defend or Sabotage Caldera. Compete in the limited-time mode, Operation: Last Call, inspired by Search and Destroy, featuring different outcomes based on your match results. Choose your side in the Heroes vs. Villains Community Event and earn rewards for participating.
Vanguard Overview
New Maps: Beheaded, Fortress. Take up position inside Lady Liberty's head in the small post-apocalyptic New York City landscape of Beheaded, and battle in a desert graveyard featuring the remains of old ships in Fortress.

Round-Based Zombies Finale: "The Archon." The epic conclusion of Vanguard Zombies is here in the latest round-based experience featuring a familiar hunting ground, new narrative quest and side quests, new Dark Aether story revelations, and the final showdown with Kortifex the Deathless himself.
Vanguard And Warzone Overview
Equip Five New Weapons. Blast enemies with the prototype Energy Rifle, EX1, and get mobile with the lightweight RA 225 SMG. Add three other armaments throughout the season: the Valois Revolver plus the BP50 and Lienna 58 Assault Rifles.

Introducing Task Force Tyrants. Play as four of the most infamous villains across Call of Duty, ready for deployment within Task Force Tyrants.

A little evil never hurt anyone. Be a hero… or become a villain in Vanguard's final season. Featuring major updates across Warzone, Multiplayer, and Zombies, Last Stand promises an epic experience however you play.
Check back at the Call of Duty blog for additional intel on Last Stand and expect new quality of life improvements to be detailed by Raven Software in the patch notes.
Rise on every front.