Activision has been on a roll lately and it looks like the momentum is going to continue with the much-awaited Call of Duty: Warzone 2.0. We've got a new trailer for the battle royale title that is a healthy, red-blooded dose of freedom in the best way possible. You've got Lynyrd Skynyrd's Free Bird blaring in the background while America does what America does best, laying waste to smaller, nameless middle eastern nations, in this case, a new map called Al Mazrah. As expected, the game comes with a few new modes and features and will feature locations from older Warzone titles along with a 2v2 Gular mode. 
Call of Duty #Warzone2 is almost here and it's FREE as a 

Experience the massive Battle Royale, the all-new DMZ mode, and so much more on November 16  pic.twitter.com/ilV6c5CRcm


— Call of Duty (@CallofDuty) November 14, 2022
The game is also available for pre-load and will be playable tomorrow. It also comes with new features including an interrogation mode for squad-based gameplay. One could say that this is the modern, more PC version of the infamous teabag but with the reward of actually extracting some useful information. Another feature to make its way to Call of Duty: Warzone 2.0 is the gas circle. Essentially what this means is that three gas circles will appear randomly on a map and players must navigate around them. This will force players to adjust to new strategies and tactics.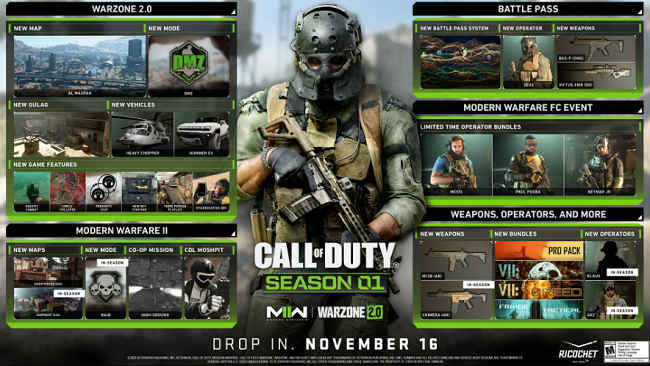 Its biggest addition to the game is the introduction of a DMZ mode in which players will be dropped into an open world with a "narrative-focused" extraction mission. Players will be able to fight by themselves or team up with others to achieve the mission. AI enemies will also be present but we assume that other players will be the main enemy in this mode. 
Call of Duty: Warzone 2.0 is now available for pre-loading right now and will be playable tomorrow. 
For more technology news, product reviews, sci-tech features and updates, keep reading Digit.in.