The competition between gaming headsets this year was pretty tight, which made our job of crowning the best performing Zero1 Gaming Headset of 2022 all the more difficult. However, one headset did end up coming out on top and it's a newcomer to the gaming headset scene. The same brand is also a veteran when it comes to audio in general so it's not that much of a surprise, all things considered. We've also got two runner ups this time around, both of which were not very far behind our winner. Like we mentioned earlier, the competition was pretty close cut this year. Now that we've got that out of the way, let's start things off with our Digit Zero1 2022 Award Winner for the best performing Gaming Headset!
Digit Zero1 Award 2022 Winner: Sony INZONE H9 (Buy Here)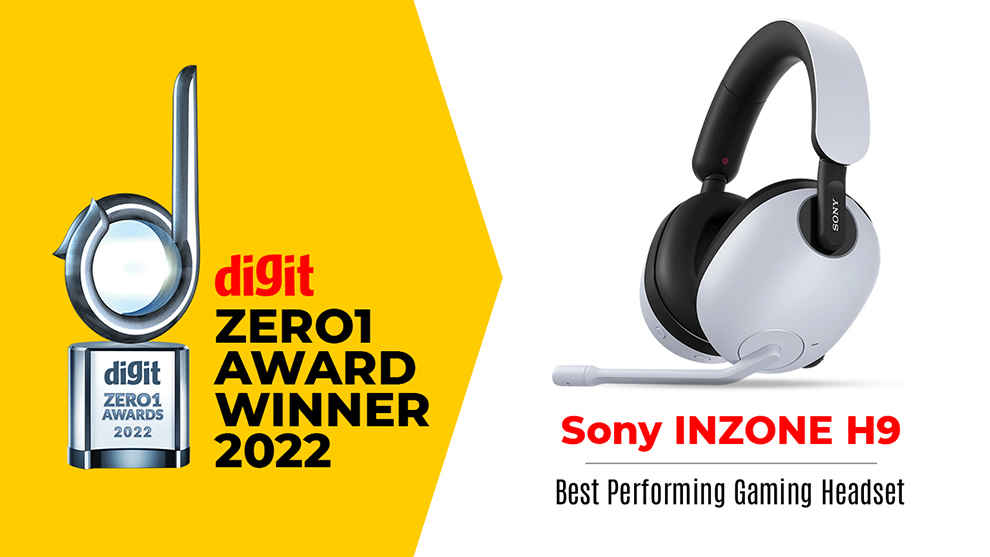 Price: ₹21,843
This year we saw Sony make its forray into PC gaming, with its new INZONE brand. With PlayStation exclusives making their way to PC over the past few years, the decision to do so doesn't really come as a surprise. The Sony INZONE H9 is a direct improvement over the Sony Pulse 3D headset and borrows a lot in terms of design language and aesthetics from the Pulse 3D. The H9 also features superior build quality, a better mic, and better overall comfort than the Pulse 3D. Coming to the performance, the Sony INZONE H9's default sound profile is balanced across the board, providing controlled and explosive lows without losing out on any of the delicate details in the mids and highs. Meaning all your in-game explosions and booms will feel impactful without being jarring, and ambient sounds from in-game environments and footsteps will also sound clear. 3D audio also sounds great on the Sony INZONE H9; we had little to no trouble pinpointing where those footstep sounds were coming from. Like the Pulse 3D, the Sony INZHONE H9 will also work flawlessly with PlayStation 5's Tempest 3D technology and they're also wireless, which is very much a point in its favour overall. Thanks to its balanced sound profile, the INZONE H9 are not only a great pair of gaming headphones, but just good headphones overall for consuming any kind of content, from gaming, to music, to videos. For this reason, the Sony INZONE H9 is our Digit Zero1 Award Winner for the best performing Gaming Headset.
Runner-up: ASUS ROG Fusion II 500 (Buy Here)
Price: ₹22,999
Much like the Sony INZONE H9, the ASUS ROG Fusion II 500 features a very balanced sound profile, falling only slightly short of the INZONE H9 in terms of performance. While the Sony INZONE H9 offered slightly better sound performance, the ROG Fusion II 500 excelled in other aspects. This includes the AI noise cancellation microphone it comes with, and comparatively similar 3D surround sound performance. Unfortunately, while the ROG Fusion II 500 is technically cross-platform compatible, you don't get access to all of its features unless you have access to the accompanying software, which is limited to PC. Coming back to the performance, again, these are not only a great pair of gaming headphones, but a solid pair of headphones in general, to consume all kinds of content. From explosions to gunshots to voices to ambient environment sounds, all of it sounds good on the Fusion II 500. The Fusion II 500 comes with powerful tech under the hood and it shows; this includes four DACs housed within the two cups of the Fusion II 500. Add to that a premium aesthetic, solid build quality, and great comfort, and this is one of ROG's best headsets to date. 
Digit Best Buy Award 2022 Winner and 2nd Runner-up: Corsair HS65 SURROUND (Buy Here)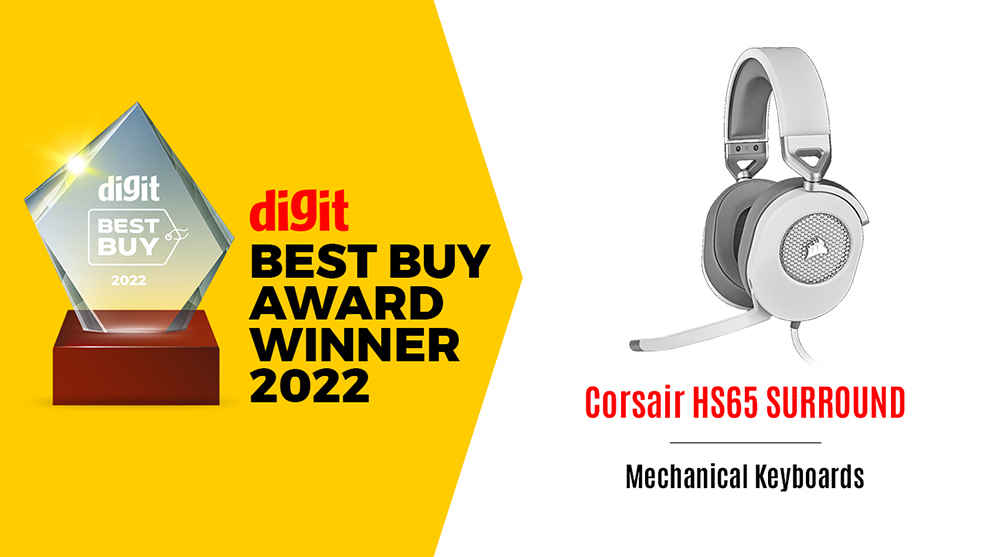 Price: ₹8,199
The Corsair HS65 Surround features great build quality, comfort, an attractive and minimalistic design, and most importantly, also delivers when it comes to audio performance. The 7.1 surround sound performs admirably, and it has a good overall sound profile with decent bass that doesn't drown out the mids and highs. This is great when it comes to gaming, allowing for both impact and clarity when listening to sounds while also providing decent spatial awareness. The Corsair HS65 is a decent pair of headphones to consume non-gaming content as well. In addition to customisable EQ, the Corsair HS65 SURROUND also comes with SoundID technology from Sonarworks. This feature allows you to create custom SoundIDs that are fine tuned to your listening preferences. Once again, it was neck and neck when it came to audio performance, however, at a price of ₹8,199, the Corsair HS65 also wins this year's Digit Best Buy Award for Gaming Headsets simply because you get premium performance and features at a budget.
Tags:
digit zero1 awards 2022
digit zero1
digit zero1 awards
digit zero1 award winners
digit zero1 awards best gaming headsets