The ₹121K to ₹200K laptop segment saw the most competition this year, and the scores were tight, with several laptops vying for the top spot. The difference in scores between our winner and the two runner ups (we could honestly have a few more runner ups with how tight the results were) was down to the decimal points. However, one laptop inched its way past the rest to the top. That being said, both runner ups deserve their spot on this list with the competition being as fierce as it was. 
Digit Zero1 Award 2022 Winner: Lenovo Legion 5 Pro (16IAH7H) (Buy Here)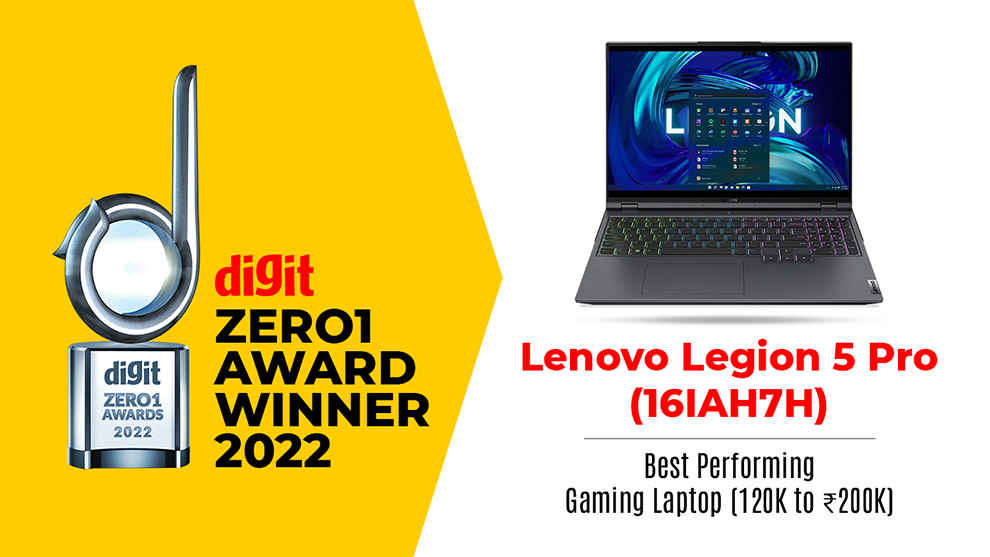 Price: ₹1,99,990 
The 12th gen Intel Core i7-12700H has often been on par, if not better, than the Intel Core i9-12900H in many benchmarks. Additionally, the Lenovo Legion 5 Pro also came with 32GB of DDR5 RAM, and an NVIDIA RTX 3070Ti. This config already puts the Lenovo Legion 5 Pro ahead of a few laptops in this segment which feature RTX 3060s and 16GB of RAM. Coming to the reason we're all here, gaming; the Legion 5 Pro scored as would be expected of a laptop with a 3070Ti. The benchmark scores for the most part were similar across all laptops which featured 3070Ti's in this segment. However, the Legion 5 Pro did have a slight edge of a few frames over other laptops. With that said, you will have no trouble handling just about any modern AAA games you throw at the Lenovo Legion 5 Pro, at high or even ultra settings as long as you're playing on FHD. Speaking of which, the 2K display on the Legion 5 Pro is also pretty solid, with a peak brightness of 500 nits and close to 100 percent sRGB coverage. Lenovo has all bases covered with the Legion 5 Pro, which is why it is our Digit Zero1 2022 Award winner for the best performing Gaming Laptop in the ₹121K to ₹200K price range.
Runner-up: Dell G15 5521 Special Edition (Buy Here)
Price: ₹1,64,990
Powered by the Intel Core i7-12700H, 16GB of DDR5 RAM and an NVIDIA RTX 3070Ti, the Dell G15 Special Edition came very close to the Lenovo Legion 5 Pro in terms of performance. Dell has really outdone themselves with this particular variant of the G15, which is probably their best in the market right now. Not only does it come with excellent hardware under the hood, but the way it manages cooling is also worth mentioning with it showing very little throttle during our testing process. That's a really important metric to keep in mind, especially if you're someone who games for long sessions. Real world gaming benchmarks saw near identical scores to the Legion 5 Pro, with the G15 SE even coming out on top in a few cases. The G15 SE actually scored highest in this segment on all synthetic GPU benchmarks. If we were to judge purely on gaming performance, then we couldn't tell the difference between the Legion 5 Pro and Dell G15 SE, however, the Legion 5 Pro does have an edge in other departments, such as with the RAM, SSD and CPU which is why it ended up taking the winner spot. However, the one other thing that the G15 SE has the Legion 5 Pro beat on is its display, while it has a lower peak brightness at around 400 nits, you get near 100 percent sRGB and DCI-P3 coverage, making it a great potential creator laptop as well. The Dell G15 5521 SE is our Digit Zero1 Runner-up for the best performing gaming laptop in the ₹121K to ₹200K price range.
2nd Runner-up: Alienware M15 R7 (Buy Here)
Price: ₹1,70,989
With how tight things were in the ₹121K to ₹200K gaming laptop segment, a second runner-up shouldn't really come as a surprise. However, it being the Alienware M15 R7 was a bit of a surprise, especially when you consider the specs. The M15 fell just about a point short of the Dell G15 SE in performance scores, meaning it wasn't too far behind our winner either. Which is saying something because the Alienware M15 R7 features an NVIDIA RTX 3060, but was still able to hold its own and even beat some of the NVIDIA RTX 3070Ti laptops in real world gaming benchmarks. The Intel Core i7-12700H on the M15 R7 had the best performance of the lot as well, only losing out to the Lenovo Legion 5 Pro. The 15.6-inch FHD display on the M15 R7 also fell slightly short of both the winner and previous runner up, but you do get a fairly bright and vibrant 165Hz refresh rate display for all your gaming needs.
Digit Best Buy Award 2022 Winner: Acer Predator Helios 300 (PH315-55) (Buy Here)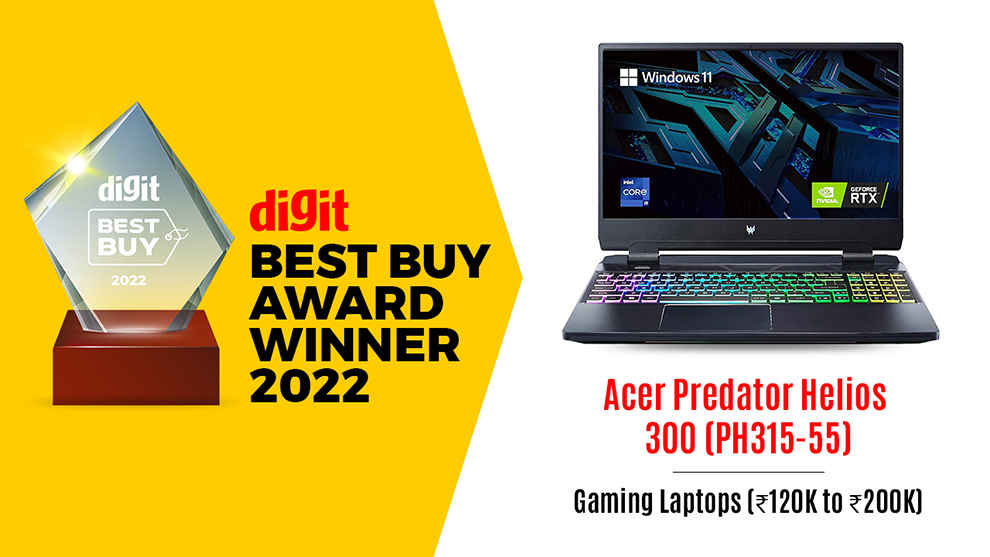 Price: ₹1,39,999
In addition to being our Digit Best Buy winner for the best performing Gaming Laptop in the ₹121K to ₹200K price range, the Acer Predator Helios 300 was also the only laptop that showed absolutely no loss of performance due to throttle. In fact, we actually saw an improvement in performance overtime, which is impressive to say the least. For ₹1,39,999, you get top of the line specs, including an Intel Core i9-12900H (the only i9 laptop in this segment), an NVIDIA RTX 3060, 16GB of DDR5 RAM, and a great 165Hz IPS display as well with near 100 percent sRGB and DCI-P3 coverage. If that wasn't enough you also have a good selection of IO port options and expandability options as well. The specs are great on paper but fell short during benchmarks, however, the scores are still great, and at this price point, excellent value for money.
Tags:
digit zero1 awards 2022
digit zero1
digit zero1 awards
digit zero1 award winners
digit zero1 awards gaming laptops