With the Digit Zero1 Awards being all about performance, both our winner and Best Buy this year are all about just that, performance. Both these gaming mice have opted to do away with unnecessary features entirely and are no-frills, no-nonsense gaming mice. That being said, our runner-up is still as feature rich as they come, and does not fall too far behind our Zero1 winner when it comes to overall performance. However, if what you're looking for is a competitive edge while you're gaming, then our Digit Zero1 Award Winner 2022 is just what you need.  
Digit Zero1 Award 2022 Winner: Logitech G Pro X SUPERLIGHT (Buy Here)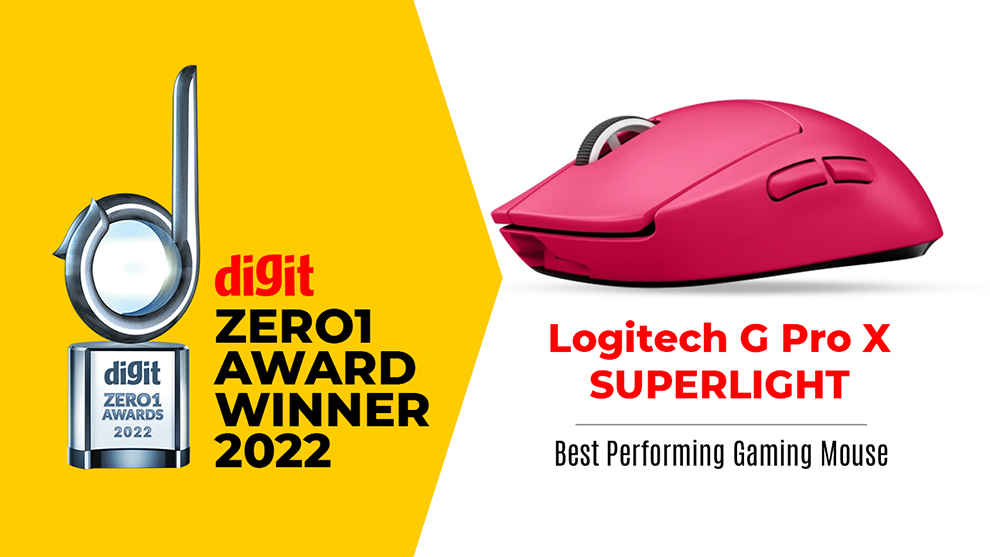 Price: ₹13,995 
The Logitech G Pro X SUPERLIGHT comes with the excellent Logitech HERO 25K sensor, which ranges from 100 CPI to 25600 CPI. The CPI can be adjusted in steps of 50, which is great, especially if you want to finetune the CPI to your needs. We found the sensor to be accurate and track well, which is paramount when it comes to mouse performance. The tracking speed is also great, and is rated at 400 IPS. Despite being a wireless mouse, the G Pro X SUPERLIGHT also has low click latency, which is ideal for competitive online gaming, such as in FPS and MOBA games. Other than that, the mouse features a lightweight form factor – weighing in at just 61 g – with great build quality to boot. Understandably, to achieve the lightweight, the G Pro X SUPERLIGHT does away with a lot of features, but you still get the two side buttons which are pretty much essential to gaming mice at this point. In our opinion, the trade-off for performance is worth it, especially if you're into competitive gaming. The Logitech G Pro X SUPERLIGHT wins our Digit Zero1 Award 2022 for the best performing gaming mouse.
Runner-up: Razer Basilisk V3 Pro Wireless (Buy Here)
Price: ₹15,150
Our runner-up, the Razer Basilisk V3 Pro is a stark contrast to our Zero1 winner; unlike the SUPERLIGHT which does away with most features, the Basilisk V3 Pro features oodles of them. You name it and this mouse has it. While the Basilisk V3 Pro fell short on our performance scores, it was by no means a bad score. Razer's sensors are some of the best in the market, and while the Basilisk V3 Pro features good tracking and accuracy, it was not able to beat our Zero1 Winner. That being said, the Basilisk V3 Pro has a lot more going for it; plenty of extra buttons, a toggleable infinite scroll wheel, being able to work with both Bluetooth and 2.4Ghz, great build quality and comfort, and a lot more if you count the software as well. It's on the heavier side as far as gaming mice are concerned, and there are many gamers out there who do prefer heavier mice to the superlights that are becoming commonplace in the market nowadays. While you may prefer superlights for FPS gaming, the Basilisk is still ideal for MOBAs and especially MMORPGs where the extra buttons are really helpful.
Digit Best Buy Award 2022 Winner: ASUS TUF Gaming M4 Air (Buy Here)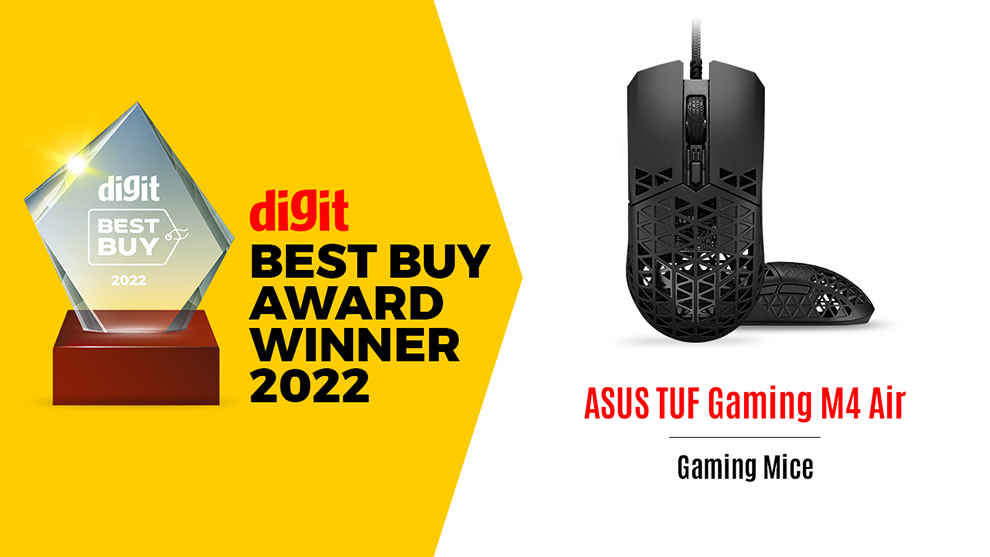 Price: ₹4,499
The ASUS TUF Gaming M4 Air was shockingly lightweight when we opened it up. At just 47 g, this is the lightest gaming mouse we've ever tested. Obviously, this also means that there's absolutely no other features whatsoever on this mouse. Of course, you still have the two side buttons and a DPI switch, but that's it. The sensors on the M4 Air are surprisingly good, and actually didn't fall too far behind our winner and runner up meaning you're getting an extremely lightweight and accurate mouse at a budget. Giving the ASUS TUF Gaming M4 Air the Digit Best Buy Award 2022 was a no-brainer.
Tags:
digit zero1 awards 2022
digit zero1
digit zero1 awards
digit zero1 award winners
digit zero1 awards best gaming mouse