A few years ago we pointed out that most of the Digit Zero1 Award contenders for the best mechanical keyboard did not feature Cherry MX switches. Well, this time around, none of the mechanical keyboard contenders features Cherry MX switches! From Logitech, to ASUS, to HyperX, Razer and more, most premium gaming brands have moved on to proprietary switches for their keyboards. This spices things up a bit, because one brand's Red Switches may not necessarily be the same as another's. This obviously gives us, the consumers, a lot more options and variations when it comes to picking the right keyboard. While switch preference is ultimately subjective, our Digit Zero1 Award 2022 Winner for best performing Mechanical Keyboard had a lot more than switches going for it.
Digit Zero1 Award 2022 Winner: ASUS ROG Claymore II (Buy Here)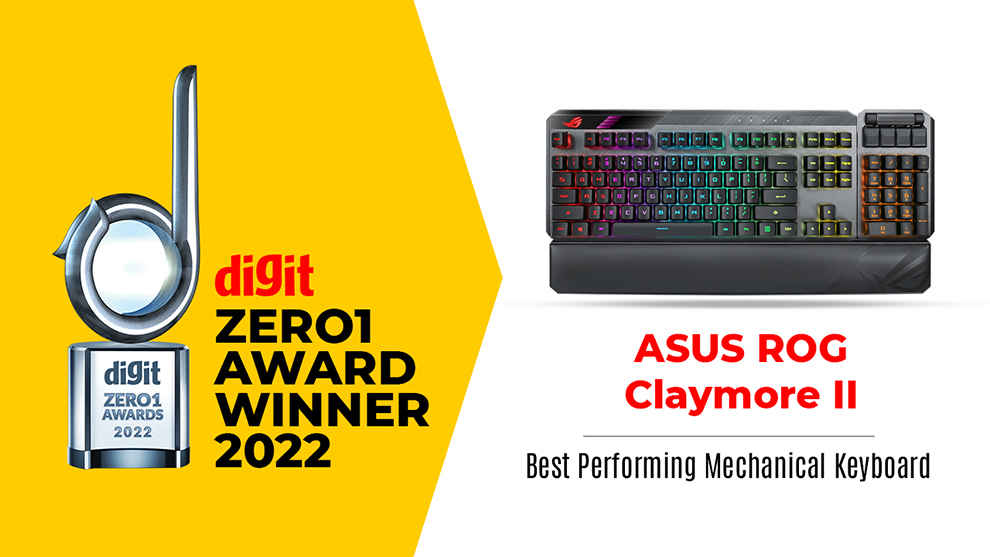 Price: ₹17,550 
The Swiss Army Knife of mechanical keyboards. That's how we would define the ASUS ROG Claymore II. There really isn't much this keyboard can't do, and it is without a doubt the best keyboard that ASUS has to offer as of right now. This is a modular keyboard, which like last year's Zero1 winner, the Corsair K100 RGB, features optical switches. Since this is a modular keyboard, if you prefer TKL keyboards, then you can simply detach the numpad. If for some reason you want the numpad on the left side of the keyboard, you can do that too. You've also got dedicated media and macro keys, and a volume dial on the detachable numpad. Then there's the cushioned, magnetic wrist rest and USB passthrough. The only thing we thought was missing was an audio passthrough, but then again, a lot of gaming headsets nowadays come with USB plugs. The whole package just feels extremely premium. The ROG RX Optical switches felt great to type and game on; the unit we received for the Zero1 Awards came with linear switches, but you have options for clicky and tactile feedback as well. And if all of the above wasn't enough, the keyboard is wireless! There's a cool battery indicator on the top left as well. You get about 40 hours worth on a single charge with the lights on, and a whole lot more if you keep them off. Overall, the ASUS ROG Claymore II is an excellent mechanical keyboard with oodles of features; not many keyboards in the market have the ability to switch between TKL and standard size while also being wireless. For this reason, it wins our Digit Zero1 Award 2022 for best performing mechanical keyboard.
Runner-up: Razer Huntsman V2 (Buy Here)
Price: ₹19,999
Another brand to join team propriety and optical switches, the Razer Huntsman V2 features Razer Optical Switches, and can also go up to a polling rate of 8000Hz! That's the highest we've ever seen in a keyboard, and that's 8x faster than most keyboards in the market. If you've got the inhuman reaction speeds to make use of the reduced response time, then by all means this keyboard will very much give you an edge while gaming competitively. It also has last year's Zero1 winner, the Corsair K100, which featured a polling rate of 4000Hz, beat. You've got options when it comes to the switches, our preference is usually linear, but there are clicky and tactile optical switches as well for those who want it. The overall typing and gaming experience on the Razer Huntsman V2 was also pretty good. Once again, with switches it comes down to personal preference, but the lower response time with optical switches is always a plus. You've got dedicated media controls and a volume dial on the top right above the numpad, full RGB backlighting that you can sync up with other devices using Razer Chroma, and a pretty sturdy and robust build. Oh, and you also get a wrist rest in the box. One thing about the Huntsman V2 that might appeal to others is the fact that it doesn't scream gamer, and wouldn't look out of place in a professional or work environment. It still has great feel and performance to back it up, which is why it's our Digit Zero1 Runner-up for best performing mechanical keyboard.
Digit Best Buy Award 2022 Winner: Cooler Master CK352 (Buy Here)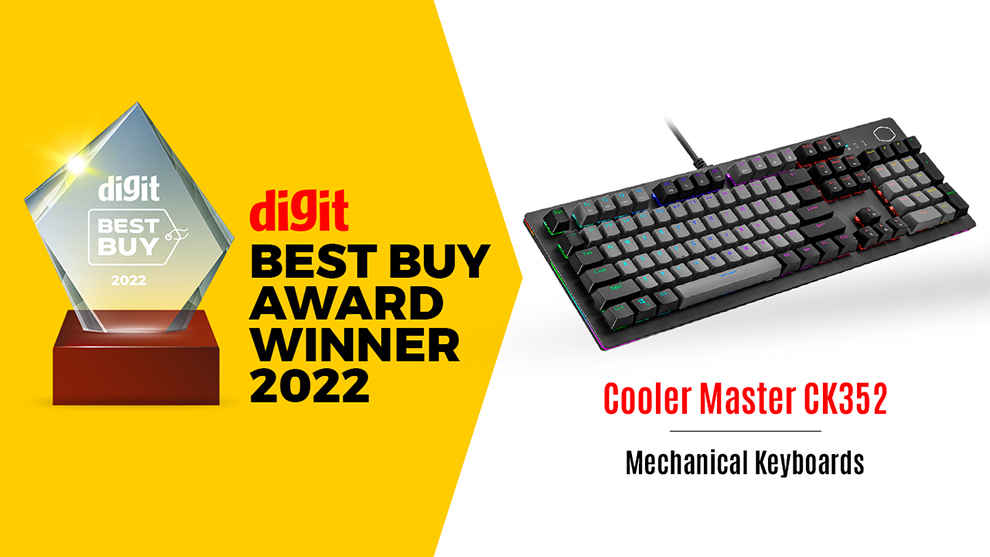 Price: ₹4,999
The Cooler Master CK352 was a pleasant surprise of sorts. As keyboards add more and more new features in attempts to one-up each other, what about the folk who just want a good old mechanical keyboard? Well, that's where the Cooler Master CK352 comes in, a no-frills full-sized mechanical keyboard from Cooler Master which features LC mechanical switches. That makes it the only keyboard on this page which doesn't have optical switches. That's not a bad thing, considering the premium you have to pay for said optical switches; a regular mechanical keyboard should be able to serve most of your needs just fine. The CK352 features pretty decent build quality with a mix of metal and plastic. You don't get any extra dedicated keys or a wrist rest and all that. There's no software support either. But hey, you can change lighting and colour combinations through the modifier keys up top, all the basics are there; brightness control, volume and playback etc. Who needs dedicated keys? Right? That's the whole point of the CK352, it's a solid mechanical keyboard, with a nice typing and gaming experience, and sturdy build quality. That's all. At a price of ₹4,999 it's a pretty good deal, and our Digit Best Buy Award 2022 winner.
Tags:
digit zero1 awards 2022
digit zero1
digit zero1 awards
digit zero1 award winners
digit zero1 awards best mechanical keyboard