Forza Horizon 5 is getting its biggest ever expansion pack that ushers in new gameplay and graphics elements like a new story, new biomes, new tracks, new cars, and stunt pieces. You can have fun building your own Hot Wheels game by incorporating the above-mentioned things. These customizability options come within EventLab. But the fun and frolic aside, the Expansion Pack adds some accessibility features too. Let's break down all that's new to the game with this update.
Forza Horizon 5 Hot Wheels: New Features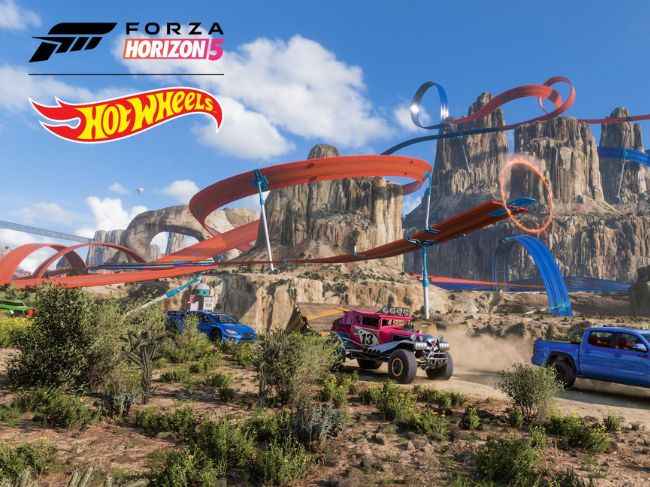 New Biomes
As Playground Games, the developer of Forza Horizon 5 reveals new biomes like — "the rugged Giant's Canyon; the frozen tundra dripping into the molten lava in the Ice Cauldron; the tree canopy towering above epic waterfalls in Forest Falls; and Horizon Nexus, where the Horizon Festival takes place.
New Tracks
New tracks stretching 212 kilometers (131 miles) including the snowy Ice track, Water Flumes, bumpy Rumble, and gravity-defying Magnet tracks. The game also brings Speed Boosts and Air Tracks for pushing the limits and speeding up.
Hot Wheels Legend
A new progression system that involves five tiers with missions, events, and rewards.
You also get Hot Wheels Story (with 5 new chapters), race your friends and the community, get your skills on, and new accessibility options to Forza Horizon 5.
How To Play Forza Horizon 5: Hot Wheels 
You can play Forza Horizon 5: Hot Wheels as part of the Forza Horizon 5 Premium Add-ons Bundle, Premium Edition, and Expansions Bundle. You can also buy the standalone Forza Horizon 5: Hot Wheels expansion directly for $19.99.
Once you have the game in any of the above forms, you just have to spot the Hot Wheels Expedition icon by Mexico's Gran Caldera (in the north on the Mexico map). You will find the new expedition on July 19. And once you complete it, the Hot Wheels mode will be available through the Pause Menu or by Fast Traveling to any of the Hot Wheels Park events. The latter is free and available immediately.
On the other hand, if you just started off the game you just have to finish the main game's initial experience which would take you about 15 minutes. You will now find the Hot Wheels Expedition icon on the map and you will be able to drive to the T-Horizon Hot Wheels Park.
As for other news, reviews, feature stories, buying guides, and everything else tech-related, keep reading Digit.in.