The popular Mobile Game – Garena Free Fire is all set to trigger a blast between the mobile gamers community by launching a Special Event : Moco Rebirth. One of the most popular, user's favourite in-game character Moco – will be having it's very own in-game event : Moco Rebirth. 
"The Moco: Rebirth event will introduce players to the awakened Moco, an outlaw who aided her friend, Steffi in her escape from prison," reads a post from Garena.
The Moco Rebirth Event will bring in a new refreshed interface, a pack of exclusive items, collectibles and many more exciting rewards…
All About the Free Fire Moco Rebirth Event
"The Moco: Rebirth event will reveal the awakened version of the character, an outlaw who aided friend Steffi in her escape from prison. During this mission, Moco comes across an old friend who paves the way for her awakening. Once fully awakened, Moco is convinced she is not bound by the rules of the world and is free to live her life however she wishes.The genius hacker – Moco's ability is to tag enemies that are shot, sharing this information with fellow teammates. "
Awakened characters are special versions of traditional Free Fire characters with different abilities, skills, and looks from the original ones. For now, the game has three other awakened versions of characters: Hayato "Firebrand," Kelly "The Swift," and Andrew "The Fierce."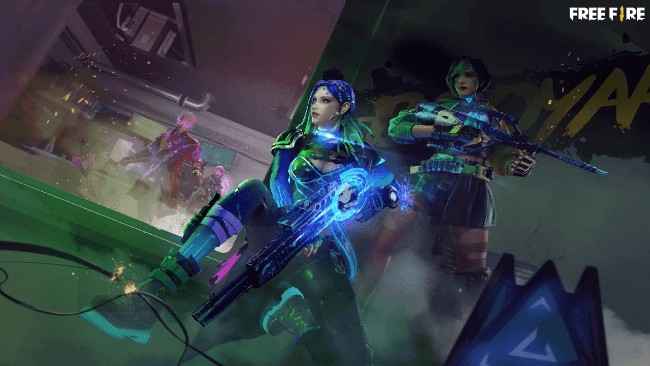 The Coder's Crib, the interface inspired by Moco, will be the main place for the users to participate in this event and get exclusive items, collectibles and rewards.  It will bring daily activities and login rewards such as Moco currency, which players can exchange for exclusive items from the in-game Horizon store. Players can collect themed costumes and exclusive Cyber Falco's pet skin, available during the event. 
Apart from these, there are four bundles available from 7-13 September; the Flashing Spade Bundle, Eternal Diamond Bundle, Dreamy Club Bundle, and Blazing Heart Bundle. 
Free Fire Moco Rebirth Event: Multiple events lined up for this month
The awakened Moco takeover will offer Survivors an exciting September, especially for fans of the character Moco. 

Rebirth event themed costumes and collections will be among the additions players can look forward to. A new pet, Sensei Tig, and other exclusive pet skins will also be made available during the event.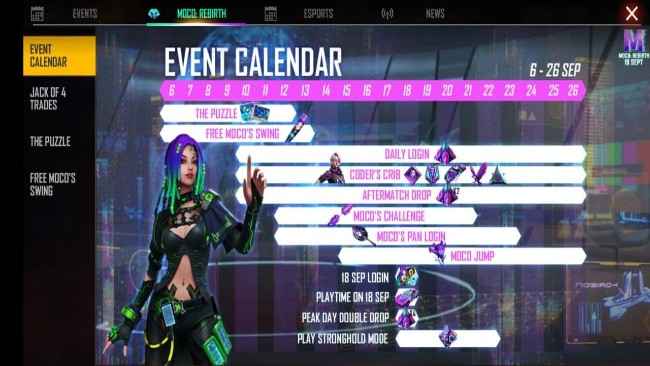 Garena had also introduced a brand new event where you have to solve a puzzle. That's why the event is known as The Free Fire Puzzle Event. The event is scheduled from 6th September to 12th September. The players will have seven days to complete the mission to get special rewards. In this event, we can see the rebirth of Moco. Here, the players have to keep Moco away from all the obstacles. You might know, Moco is known as "chat noir" for her skill and intelligence. She has the ability to hack into any computer she wants without anyone noticing thus making it a great character to choose in game.
Garena has confirmed bringing in a new set of events to introduce their Moco character in the Battle Royale game. The game offers more than 30 playable characters to choose from, but only the specific ones get their exclusive events. 
Free Fire Moco: Rebirth – All the Events To Look Out For
As per the event calendar released, Moco Rebirth event is split into 12 amazing parts all with their own rewards.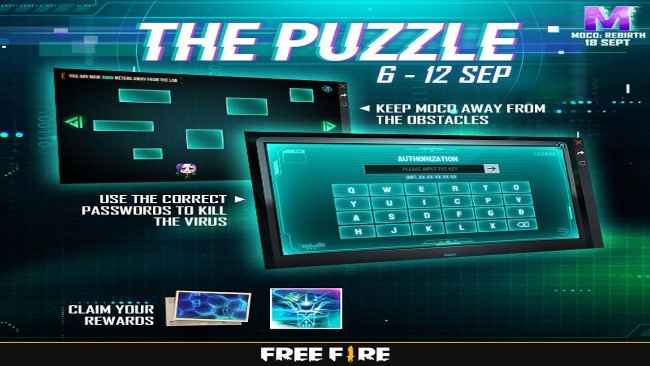 The exciting event begins with the Puzzle Event from September 6 to 12, where users receive the Moco Month Banner and the Turquoise Warning as amazing rewards.

The Moco's Free Swing event is scheduled from September 5 to 13; where users just have to log in continuously for 5 days to get the skin; and it's basically free.

Then 3 main challenges begin on September 10 then end on the 26th; the Daily Login Rewards, the Coder's Crib Event offers rewards such as a female bundle, the cyber Falco pet skin, a parachute, a grenade skin, and much more and finally, we have the Aftermatch Drop.

After that, there is the Moco's Challenge from September 12 to 21, offering a skateboard skin as a reward.

Moco's Pan Login Event from 12th September to 23rd, and as the name suggests, offers a pan skin as reward.

Then we have the Moco Jump Event from September 15 to 26 with a bag skin.

Then on September 18, we have 3 single-day challenges, 

Next, Sep 18 Login presents you with the Awakened Moco Bundle, Playtime on Sep 18 gives you a car skin, then we have the Peak Day Double Drop special. 

Finally, players get a new game mode called the Stronghold Mode;  available from September 18 to September 22
Garena Free Fire has also launched some amazing videos related to its Moco Rebirth Event. Checkout the Moco Rebirth Playlist on Garena Free Fire India's youtube Channel.
Free Fire is available to download for free on the Google Play Store for Android and the Apple app store.