Call of Duty: Mobile's new seasonal event is now live. Called High Noon Chase, the new event continues the Wild West theme of the Season 4 Spurned & Burned update. As the name would suggest, the event tasks players with taking the role of a sheriff and chasing down a villain. Along the way, players will unlock a host of rewards. The event can be accessed via the Events tab and will go on till June 24. Unlike previous season events, it can be played solo and is not dependent on other players.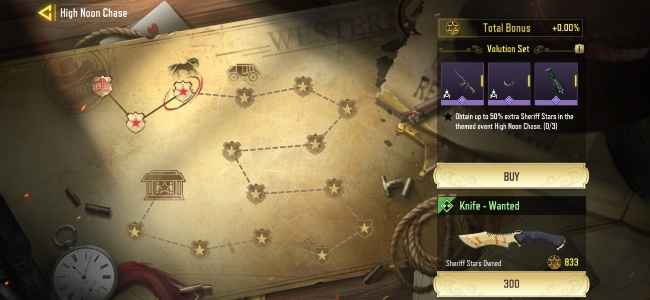 Call of Duty: Mobile – High Noon Chase details
Players have to give chase to the villain by progressing through nodes. Each node has to be unlocked by spending a set number of 'Sheriff Stars'. These items can be earned by playing Multiplayer or BR matches. Playing 1v1 Duel or with specific weapon sets and offer a boost to the number of Sheriff Stars in each match. Using the Volution Set of the ASM10, Karambit and the Trip Mine can offer up to 50% increase in the stars earned. 
Call of Duty: Mobile – High Noon Chase rewards
There are a total of 16 nodes in the High Noon Chase event. Each node offers new rewards. These range from Weapon XP cards, weapon and vehicle skins, charms and an epic weapon blueprint for the Echo shotgun. The final node gives players the Tengu – Black Gold character for use in matches.
As mentioned earlier, the Season 4 Spurred & Burned update is still going on. As always, the new update brought with it a bunch of new content. This includes the Dome map and the MK2 marksman's rifle. The Holger 26 LMG is still not available for Multiplayer and should be made available via a Seasonal Challenge soon.
Tags:
call of duty
call of duty mobile
call of duty mobile high noon chase
call of duty mobile season 4
season 4 spurned and burned