Verdict
The Intel NUC 11 Extreme kit is an absolute beast of a machine that packs some serious specs in as small a package as it gets. I would also recommend the NUC 11 for its modular nature which makes it strong for future upgrades. The Beast Canyo is truly a powerhouse but it doesn't come cheap. Even the bare-bones "kit" as Intel calls it, will set you back $1599 for the Core i9-11900KB. That being said, it is probably more powerful than your current desktop or laptop and it comes in a very unique form factor that'll turn some heads.
Intel NUC 11 Extreme detailed review
Intel NUC 11 Extreme Kit "Beast Canyon" Detailed Review
Intel's been doing some amazing things in the SFF space with its NUC PCs. We tested the Hades Canyon back in 2019 and absolutely loved its form factor and the kind of performance it offered. Intel stepped up its game with the Ghost Canyon last year which was slightly bigger and more powerful. Now, the new Intel NUC 11 Extreme Kit dubbed the "Beast Canyon" is here.
Well, I've been using this beast of an SFF machine for the better part of a month now and I've got quite a few things to say. So, jump into the review, shall we?
Intel NUC 11 Extreme Kit "Beast Canyon" Specifications
Before we begin, I want to get the specifications out of the way because it can be a little confusing considering the different options you get while purchasing this machine. So at the heart of the NUC 11 Extreme Kit is Intel's NUC Element that houses the CPU, RAM, and an M.2 storage. Depending on your budget, you can configure the bare-bones machine with either an Intel Core i9-11900KB or a Core i7-11700B.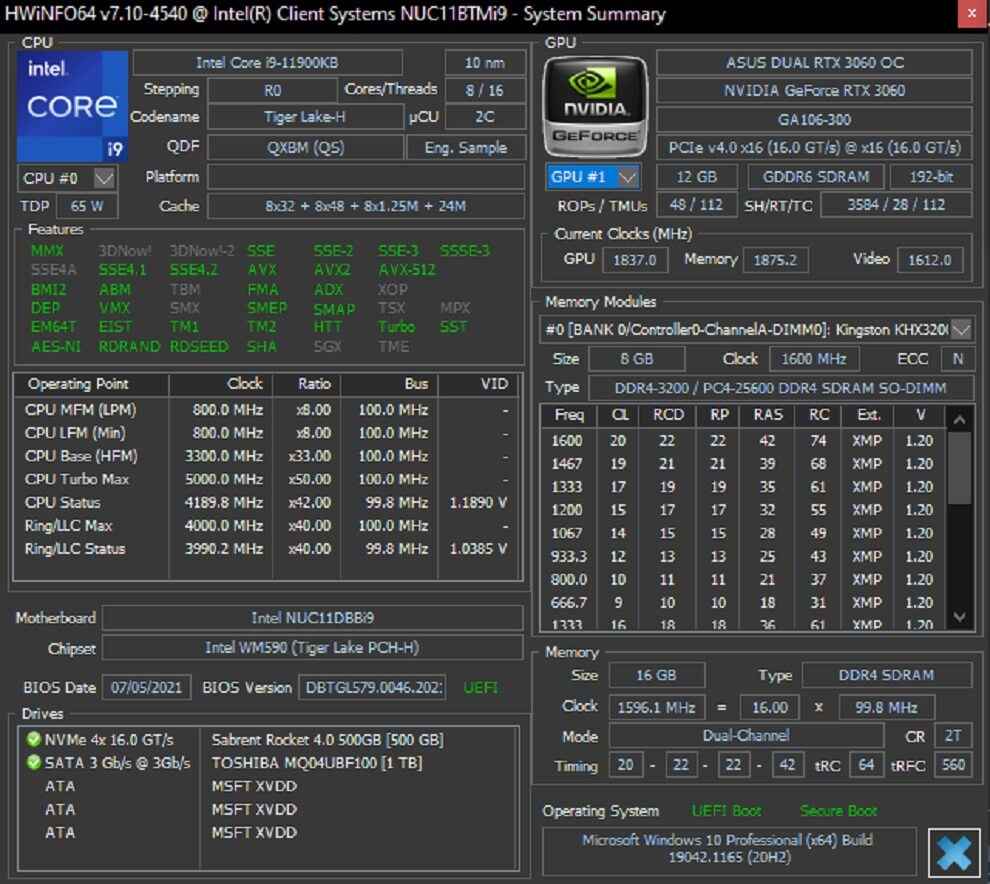 The review sample that we have with us comes with an Intel Core i9-11900KB. Intel was also nice enough to add other components to deliver a fully functional machine, completely kitted with these specs –
Processor: 11th Gen Intel Core i9-11900KB with 5.3Ghz Turbo Boost

Graphics: ASUS Dual GeForce RTX 3060 12GB GDDR6 GPU

RAM: 16GB DDR4 RAM

Storage: 500GB Sabrent Rocket NVMe 4.0 M.2 2280 SSD

Power: 650W 80+ Gold internal PSU
Intel NUC 11 Extreme Kit "Beast Canyon" Performance
The Intel Core i9-11900KB is essentially a souped-up version of the Core i9-11900HK H45 CPU that came out not too long ago. This unit belongs to the Tiger Lake family and is based on the 10nm SuperFin tech. The Core i9-11900KB has 8 cores and 16 threads, and is clocked with a base frequency of 3.30Ghz and can Turbo up to 5.30Ghz at 65W and above.
Since the Core i9-11900KB is a desktop-class CPU, the Beast Canyon should easily be able to support more powerful GPUs such as the dual-slot RTX 3080 models. The built-in 650W power supply could be an issue though, so do keep that in mind. That being said, I ended up testing the NUC 11 Extreme with the 3060 itself.
The Core i9-11900KB, even though, is a desktop-class CPU, it's configured to pull less power than something like the Core i9-11900K. This is exactly why I call it the souped-up version of Core i9-11900HK that it locks horns with more so than the Core i9-11900K.
In Cinebench R23, the Core i9-11990KB managed to score 10,646 in multi-core score and 1,518 in the single-core score. These scores, as you probably already guessed, are not as high as you'd think they'd be. While I don't have a laptop that's powered by the Core i9-11980HK readily available for comparison, but I'd bet my money on it and say the performance of that particular machine will more or less be similar to this one.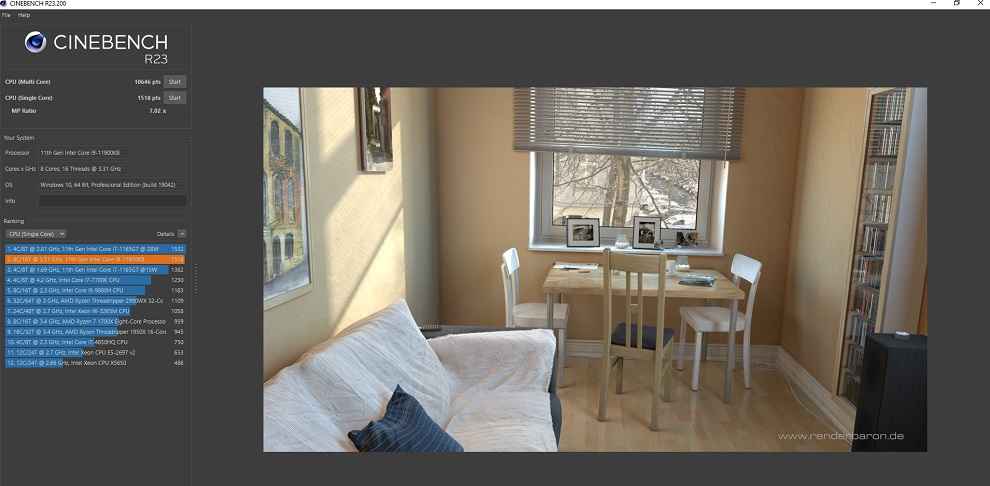 It's not really a surprise considering the fact that Intel used a laptop-class CPU for last year's Ghost Canyon too. This year, we have a slightly tuned version of a laptop CPU that's tuned differently to deliver higher speeds in certain scenarios.
Well, is it really an issue here? Not really. The Core i9-11900KB managed to consistently deliver some good results across the slew of synthetic tests as well as the real-world performance tests that it was tasked with. In PCMark 10, we're looking at a score of 7,246. This translated to some solid real-world usage too in terms of the performance.
CPU-intensive tasks were handled rather well by the Core i9-11900KB. For instance, I accidentally left the Streamlabs OBS encoders to use the CPU instead of the hardware (NVENC) and I honestly didn't even notice that much of a difference save for a few skipped frames during 2 hours long stream. Just to put things into perspective, the Ryzen 5 3600 on my main PC fails to keep up with the exact same workload forcing me to put my GPU to handle Streamlabs on my main PC. Obviously, this comes at the cost of thermals, which we'll discuss a bit later in this review.
GPU Performance
Speaking of the GPU, the RTX 3060 GPU is plugged into the full-sized PCIe Gen 4 x16 slot inside the NUC 11 Extreme Kit. This is completely optional since the compute element comes with its own display output for the CPU's integrated graphics. Technically, you can run NUC 11 Extreme Kit without a GPU, but well, what's the fun in that?
This particular section of the review could be irrelevant for you considering which GPU you decide to run with. The 8L chassis now lets you add up to 12-inch GPU, so feel free to experiment as long as you respect the PSU's power limitations.
The RTX 3060 GPU which our review unit came with managed to run quite well despite the very limited breathing room inside the chassis. I was impressed to see it run rather cool, but more on that later in the thermals section.
In terms of performance, the ASUS Dual GeForce RTX 3060 managed to keep up with my demanding gaming needs. I've been spending a lot of time on Microsoft Flight Simulator 2020 lately, and I was glad to see the NUC 11 Extreme Kit handling flawlessly. MFS2020 at 1080p Ultra settings was giving me upwards of 70FPS. Outriders at 1080p Ultra settings were sitting at a smooth 90FPS, and even the more graphically demanding titles like Red Dead Redemption 2 was very much playable with over 50FPS at 1080p Ultra settings.
Here's a quick look at some of the games along with their performance numbers to give you a slightly better idea –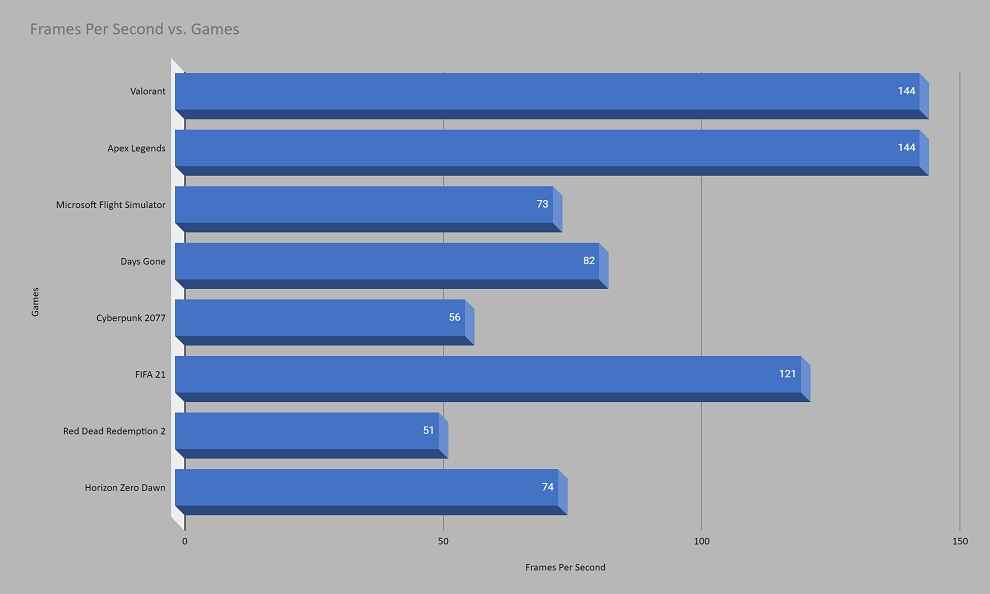 In addition to games, I also ran the 3DMark test on the machine and the score for those are right here in this graph below for those of you who care –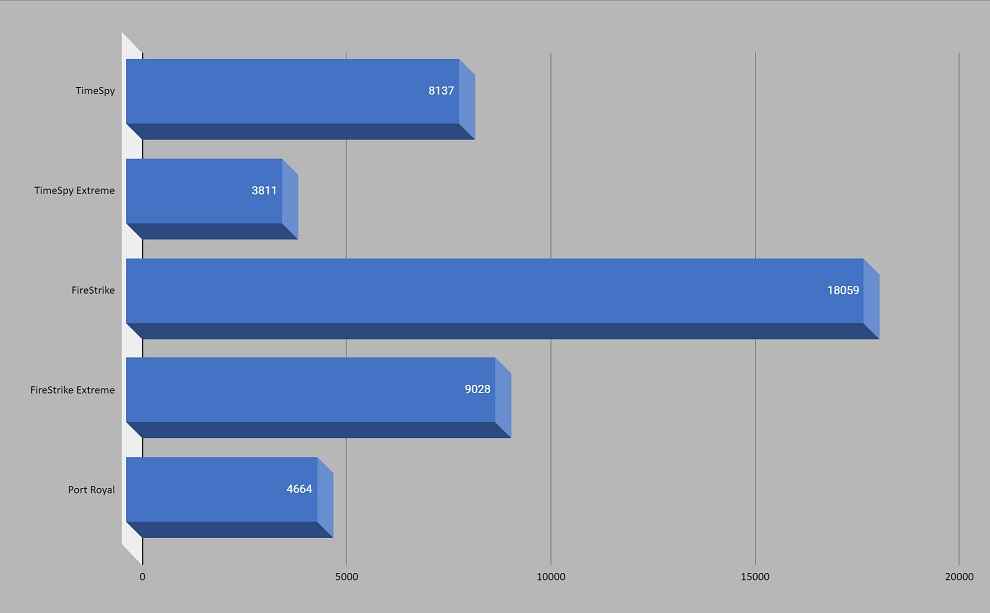 I am happy to report that your gaming performance is not going to be affected by the Core i9-11900KB. So irrespective of the GPU you decide to run with, the CPU isn't going to stand as a bottleneck. This is again true for creative workloads too, so let's take a quick look at the performance numbers for that before we jump into the thermals section.
Creative Workloads
I started off with some Blender tests and the results for that are shown below. Again, I will soon be testing a Core i9-11980HK very soon, so this section will be updated later with more comparison for the CPU results. In Adobe Lightroom Classic, I was able to export 50 RAW files in just 1 minute and 29 seconds. 100 RAW files took 2 minutes and 36 seconds and 200 RAW files took 4 minutes and 59 seconds.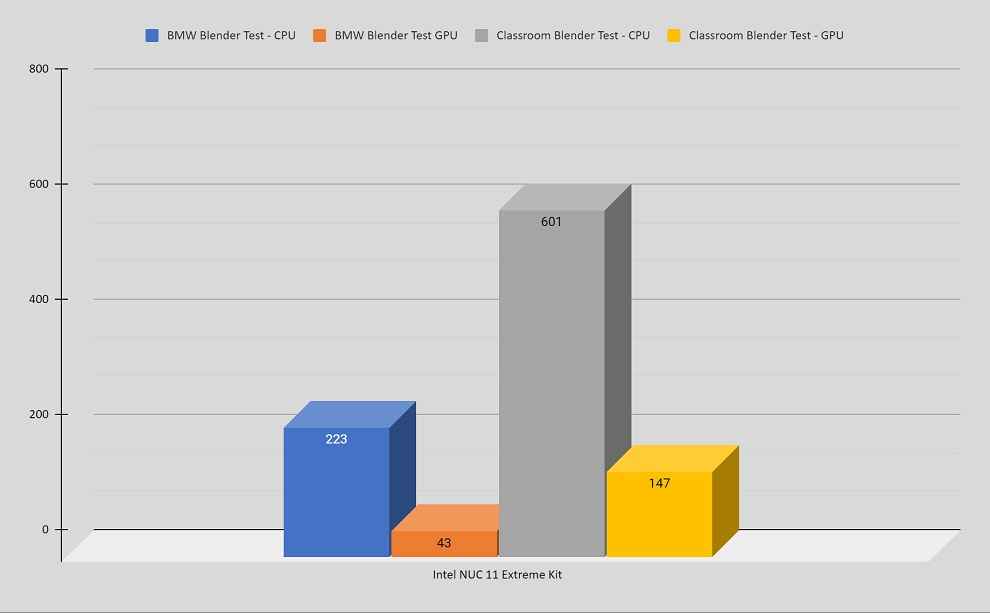 In Davinci Resolve, the RTX 3060 GPU was able to render a ~20 minute 1080p H.264 MP4 file in around 12 minutes and 32 seconds. These numbers are in line with what I expected the NUC 11 Extreme Kit to deliver. Looking at these results, I'd say that the NUC 11 Extreme Kit obviously won't be my first choice for creative workloads, but it fares very well.
The Intel NUC 11 Compute Element, as you'd have guessed, supports PCIe 4.0 and Intel was nice enough to add a Sabrent Rocket 4.0 M.2 storage in our review unit. This is obviously an expensive addition to the kit, but if you end up getting it, then these are the speed you can expect –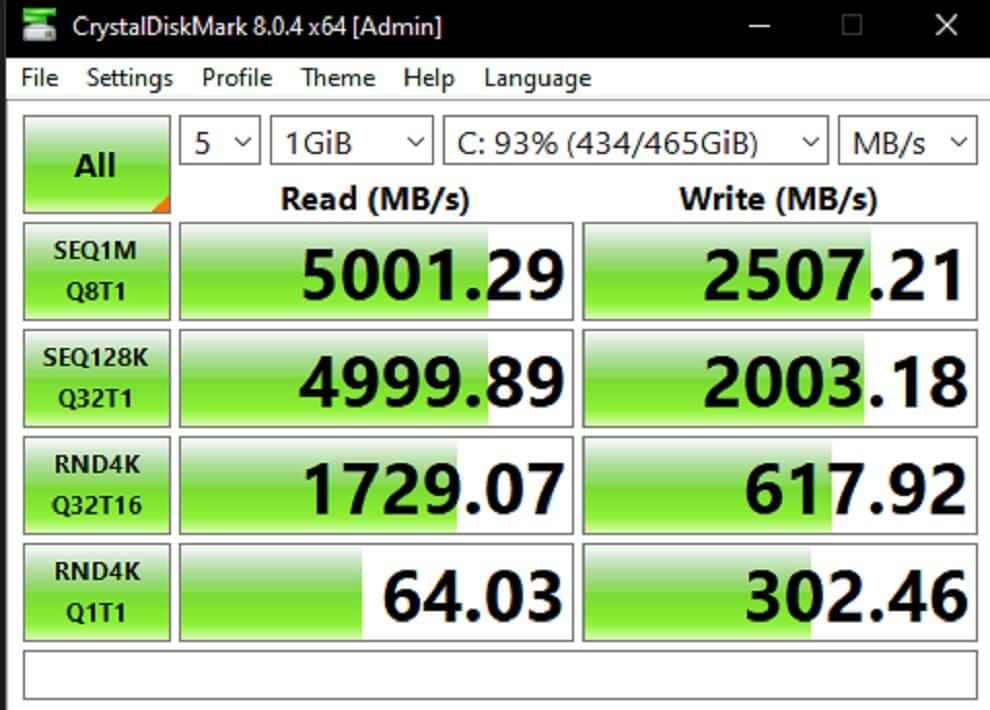 Thermals
Literally, every single person who I showed the NUC 11 Extreme kit wanted to know about the thermals of this machine, and rightfully so. The thermal performance is probably the major limitation of the SFF PCs, and it is arguably the primary reason for these mini-PCs not being the first choice for people looking to buy/build a PC.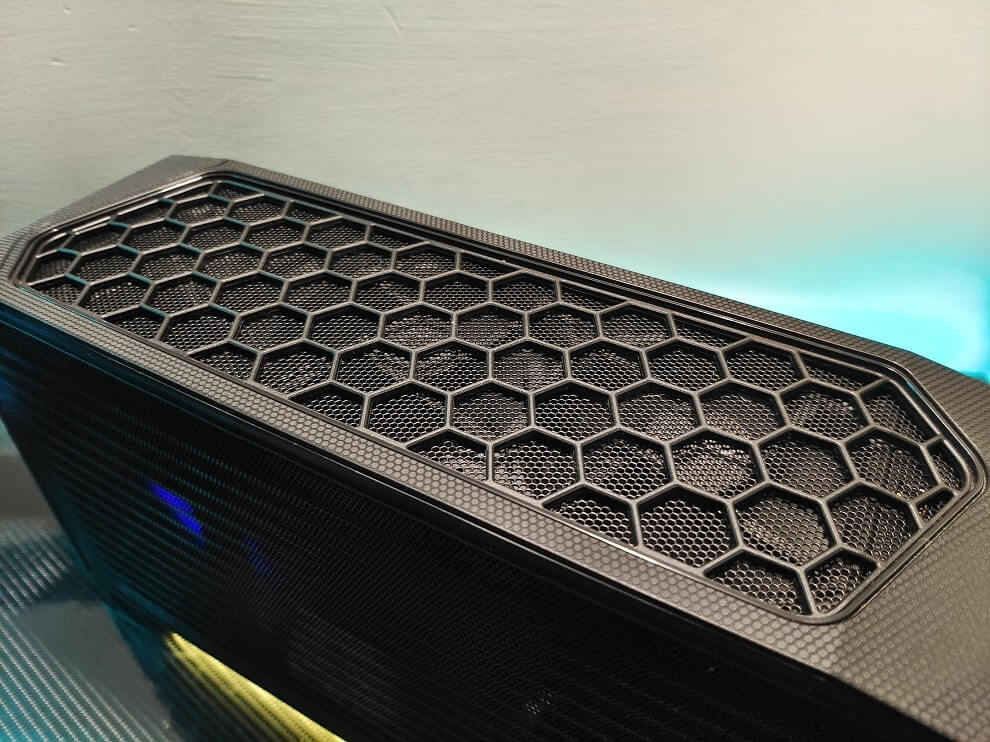 So, does the Intel NUC 11 Extreme Kit runs hot? For the most part, I think Intel has done a commendable job of taming this beast of a machine when it comes to thermals. So, the compute element itself comes with a fan that is housed inside the cooling shroud along with three M.2 heat-sinks with thermal pads. In addition to that, the top panel of the NUC 11 Extreme kit has 3 92mm fans resting on a hinge. Add the number of fans your GPU of choice has and that'll wrap up the cooling system on the NUC 11 Extreme kit.
Well, if it doesn't sound like a sophisticated cooling solution, it's because it isn't one. And honestly, that's everything that the NUC 11 Extreme kit is going to need. Even if you swap out the Compute element and replace it with, say, the older one from Ghost Canyon for some reason, you'd still be fine because these compute elements are running relatively less powerful CPUs as compared to a traditional desktop. Your GPU will have fans of its own and the vents located directly in front of the GPU will allow it to throw the hot air directly out of the chassis.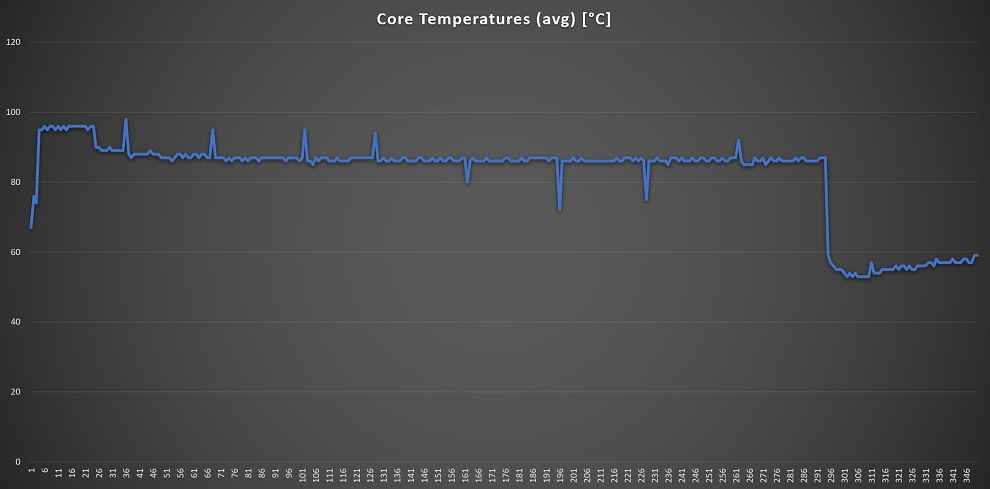 The Core i9-11900KB was running close to the TJMax limits at times, especially during the early stages of the test, but it quickly recovered and went back to around 80C to 85C. The rise in temperature was recorded when the CPU was trying to push above its PL1. But I noticed that the Core i9-11900KB almost always stays at PL1 except for a few spikes above 80W. So unless you are really trying, there's a very good chance that you will not face any major heating issues except for the occasional thermal throttling.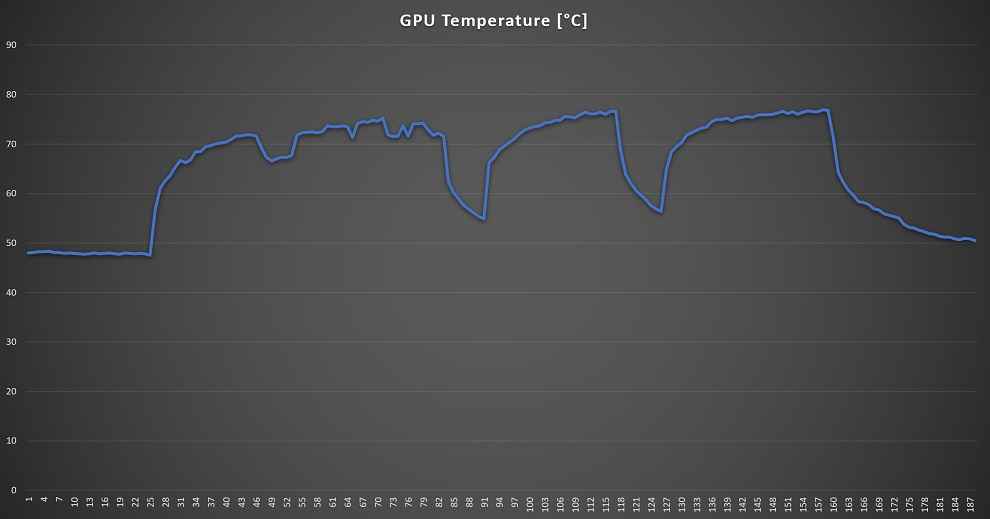 Moving on to the GPU side of things, the RTX 3060 inside the machine was also running surprisingly cool inside the chassis. Even my extremely long sessions of Microsoft Flight Simulator couldn't make it go past the 80C mark, which is mighty impressive. I can't vouch for other GPUs inside this chassis but the 3060 was having a great time. Overall, I am not honestly not too worried about the thermals of the NUC 11 Extreme Kit.
Intel NUC 11 Extreme Kit Ports
Before talking about the IO, I also want to mention that the Compute Element supports up to 64GB of dual-channel DDR4 memory across two SO-DIMM slots. You also get up to 4 M.2 slots capable of supporting up to 80mm SSDs. The Compute Element also supports Intel Optane memory M10, H10, or H20, and is Optane SSD-ready.
As for the ports themselves, you'll see two vertical banks at the back of the kit, one for the Compute Element and one for the video card. The Compute Element comes with two Thunderbolt 4 ports, an RJ-45 Ethernet jack, six Type-A USB 3.1 Gen 2 ports, and an HDMI 2.0b-out. The RTX 3060 installed here on our test sample gave an additional HDMI port along with a handful of DisplayPorts.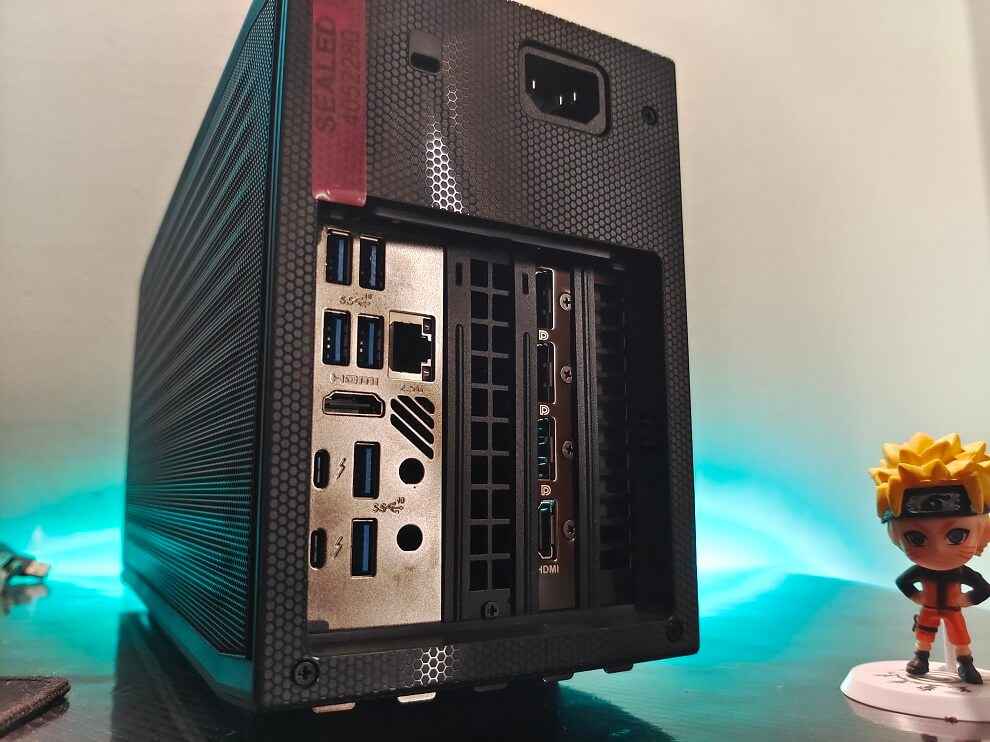 On the front of the kit, you get an SDXC card slot, a mic-in/headphone-out audio combo jack, and two Type-A USB 3.1 Gen 2 ports that came in handy for me to connect both my headphones and the Samson Q2U microphone. I do want to point out that the ports on the front are located directly under the lip near the bottom, and it takes a bit of an effort to plug in/remove the USB Type-A peripherals.
Design & Build Quality
When I first opened the NUC 11 Extreme Kit packaging, I was quite surprised to see the chassis itself. As I mentioned earlier, this NUC is now slightly bigger than all the previous NUCs that we've seen from Intel. The new 8L chassis definitely adds a bit of breathing room, but it might also surprise/disappoint you. I mean, at what point do these NUC PCs stop being SFF PCs?
Don't get me wrong, it's still very compact and will take very little space on your setup, but I am curious to see what the next NUC kit will look like and how big it will be. This one actually comes very close to some mini-ITX cases. Definitely not a deal-breaker since you can still carry it very easily with just one hand, but the form factor is definitely evolving and it seems to be turning into something more conventional.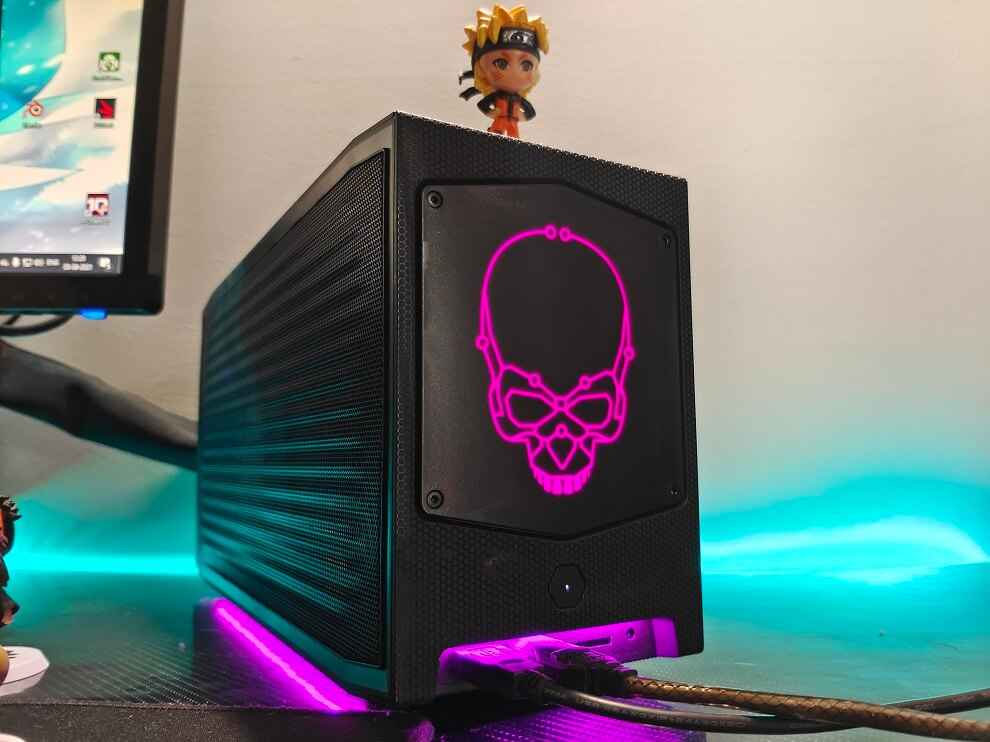 But the design itself speaks very well to me. It's a gaming beast and it certainly shows. The NUC 11 is one of those machines that's made to stand out and scream performance. It's definitely going to be the most striking thing on your setup. There's an engraved skull logo right on the front and it's fitted with controllable RGB. You can actually get rid of the logo if you don't like it and replace it with any customized RGB pattern you want.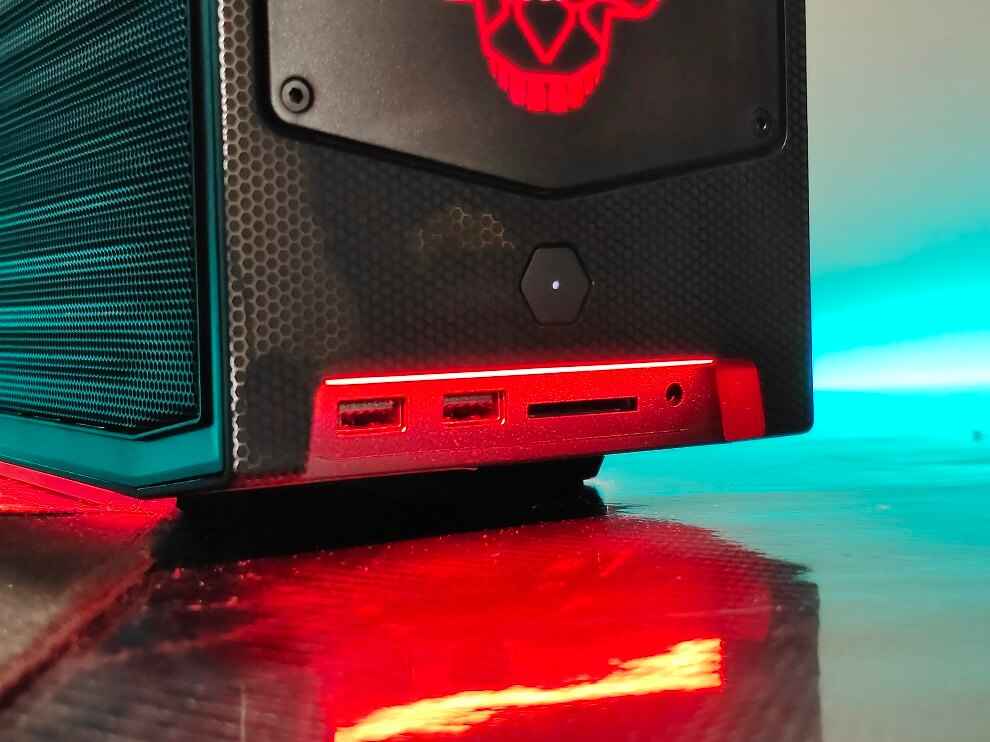 You also get ambient RGB strips lighting the bottom of the case, which again, adds to the overall aesthetics. Intel gives you an option to turn off the lights using the bundled NUC Software Studio. This is also where you can set custom RGB lighting effects like strobing or breathing. The software will also let you monitor system temperature and usage, change the fan curve, and switch between available performance modes for the processor. I must point out that the NUC software was a little buggy and it kept throwing out of the performance mode.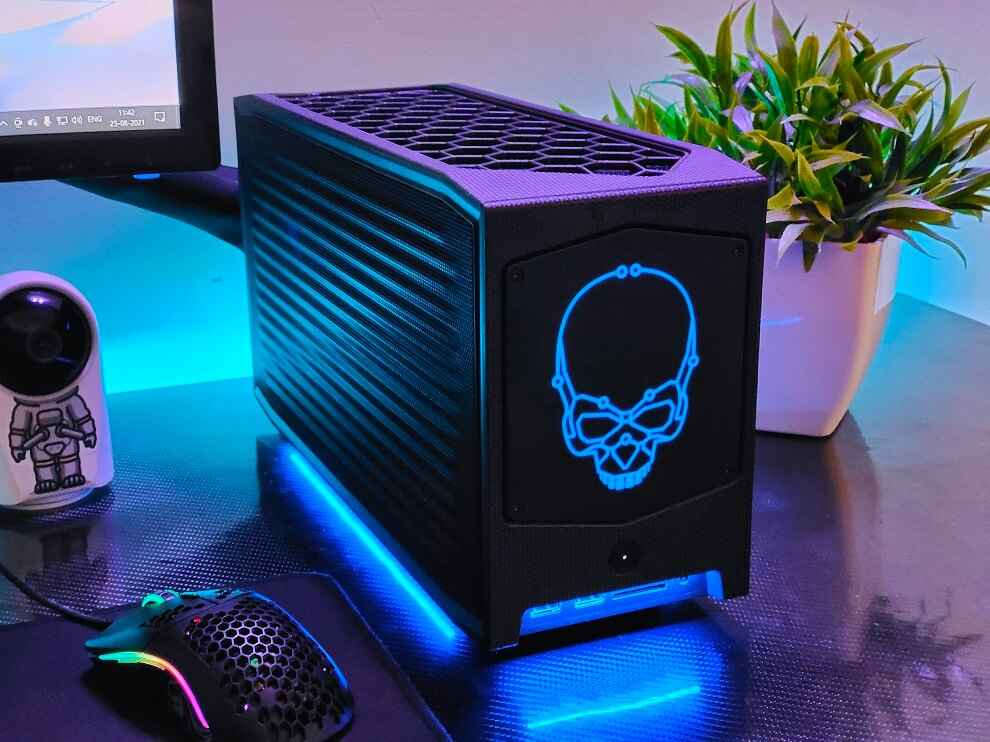 Besides that though, there's not a lot to talk about the design. It's mostly just vents allowing the air to move in and out of the chassis. It measures 14.1 inches long, 7.1 inches high, and 4.7 inches wide in case you are wondering. Overall, I really like the NUC 11's design and build quality. It's a fairly simple machine that's a little bigger than I thought it would be. But it's a fair trade-off to let you add a full-length graphics card. However, I'll give it some brownie points for the added RGB flare.
Verdict
The NUC 11 Extreme kit is a compact powerhouse. There's no other way to put it. Yes, it is considerably larger than most other NUCs, but it's packing a lot of power inside that chassis. The Intel Core i9-11900KB gets you a heck of a lot of power and it will take care of most of your needs despite being a slightly tuned version of the Core i9-11980HK which is a laptop CPU. From there, it all depends on the kind of components you add in like the RAM, SSD, and GPU. If you decide to configure one from the SimplyNUC website that's similar to my test sample, then you'll have to shell out quite a bit of money. Just the bare-bones Compute Element kit will set you back $1599.
So who is the Intel NUC 11 Extreme Kit really for? Well, if you ask me, it's for those enthusiasts who are looking for an absolute beast of a machine that packs some serious specs in as small a package as it gets. I like how Intel has added more space to allow for full-sized GPU support. That and the addition of flashy RGB lighting clearly show Intel wants to cater to the gaming market with its NUCs.
I would also recommend the NUC 11 for its modular nature which makes it strong for future upgrades. Intel tells me that you can just buy the NUC 11 Compute Element and throw it inside last year's Ghost Canyon machine. So as long as they keep pumping out these Compute Elements, I am fully committed to seeing where the NUC and these SFF PCs are headed in the future.