PlayStation Plus is already live in the US, and the subscription model will launch on June 23rd for India and European regions. This information has been confirmed on the PlayStation Plus page. The revamped subscription model promises a new experience for the service holders. 
The new subscription model of PlayStation Plus will arrive in three tiers – Essential, Extra and Deluxe. The Essential tier of the service will allow players to play online multiplayer with an allowance of 2-3 PS4/PS5 games per month. This tier is identical to the model that exists now. 
The Extra tier will have all the benefits of Essential plus a huge catalogue of more than a hundred downloadable PS4/PS5 titles. Deluxe is the costliest subscription tier and will add the Classic catalogue of games and Plus Game Trials to Extra. 
Pricing and Game Catalogue 
PS Plus Essential – 1 month- Rs 499/ 3 months- Rs 1,199 / 12 months- Rs 2,999

PS Plus Extra – 1 month- Rs 749/ 3 months- Rs 1,999 / 12 months- Rs 4,999

PS Plus Deluxe –  1 month- Rs 849/ 3 months- Rs 2,299 / 12 months- Rs 5,749
The Game Catalogue will come with some of the biggest titles from the past few years including Red Dead Redemption 2,  Death Stranding, Marvel's Spider-Man, Returnal, and more. 
The North American launch has confirmed the presence of over 700 games in the Game Catalogue. The Deluxe members will be able to access the Classic Catalogue that will take them back to the games of PS2, PSP and the original PlayStation era. 
PlayStation Games Catalogue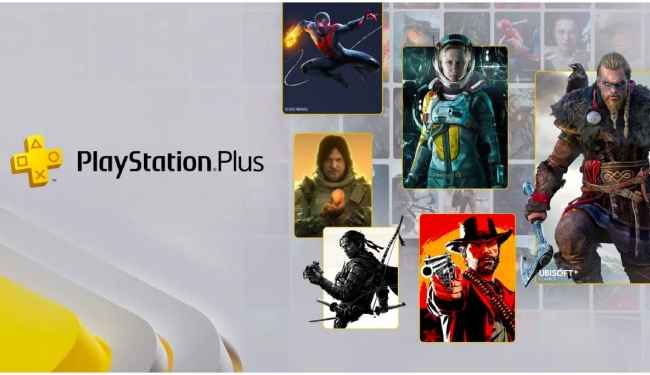 Alienation | Housemarque, PS4

Bloodborne | FromSoftware, PS4

Concrete Genie | Pixelopus, PS4

Days Gone | Bend Studio, PS4

Dead Nation Apocalypse Edition | Housemarque, PS4

Death Stranding and Death Stranding Director's Cut | Kojima Productions, PS4/PS5

Demon's Souls | Bluepoint Games,  PS5

Destruction AllStars | Lucid Games, PS5

Everybody's Golf | Japan Studio, PS4

Ghost Of Tsushima Director's Cut | Sucker Punch, PS4/ PS5

God of War | Santa Monica Studio, PS4

Gravity Rush 2 | Japan Studio, PS4

Gravity Rush Remastered | Japan Studio, PS4

Horizon Zero Dawn | Guerrilla Games, PS4

Infamous First Light | Sucker Punch, PS4

Infamous Second Son | Sucker Punch, PS4

Knack | Japan Studio, PS4

LittleBigPlanet 3 | Sumo Digital, PS4

LocoRoco Remastered | Japan Studio, PS4

LocoRoco 2 Remastered | Japan Studio, PS4

Marvel's Spider-Man | Insomniac Games, PS4

Marvel's Spider-Man: Miles Morales | Insomniac Games, PS4/PS5

Ashen | Annapurna Interactive, PS4

Assassin's Creed Valhalla*** | Ubisoft, PS4/PS5

Celeste | Maddy Makes Games, PS4

Cities: Skylines | Paradox Interactive, PS4

Control: Ultimate Edition | 505 Games, PS4/PS5

Dead Cells| Motion Twin, PS4

Final Fantasy XV Royal Edition | Square Enix Co. LTD, PS4

Hollow Knight | Team Cherry, PS4

Marvel's Guardians of the Galaxy | Square Enix Co. LTD., PS4/PS5

Mortal Kombat 11 | WB Games, PS4/PS5

Narutoshippuden: Ultimate Ninja Storm 4 | Bandai Namco Entertainment Inc., PS4

NBA 2K22 | 2K Games, PS4/PS5

Outer Wilds | Annapurna Interactive, PS4

Red Dead Redemption 2 | Rockstar Games, PS4 
Classic Games Catalogue
Ape Escape | Japan Studio, Original Playstation 

Hot Shots Golf | Japan Studio, Original Playstation

I.Q. Intelligent Qube | Japan Studio, Original PlayStation

Jumping Flash! | Japan Studio, Original PlayStation

Syphon Filter | Bend Studio, Original PlayStation

Super Stardust Portable | Housemarque, PSP
Third Party Partners
Mr Driller | Bandai Namco Entertainment Inc., Original PlayStation 

Tekken 2 | Bandai Namco Entertainment Inc., Original PlayStation 

Worms World Party | Team 17, Original PlayStation 

Worms Armageddon | Team17, Original PlayStation