When you think of a CCG(collectible card game), deck builder, or card battler game the first thing that usually comes to mind is Hearthstone, or the more recent Legends of Runeterra. Of course, they in turn are inspired by even older card games like Magic: the Gathering (heck, we could even drop the Pokemon card game here). While we may not be familiar with Magic the Gathering, we are familiar with shows like Yu-Gi-Oh, or the less popular Duel Masters, which were also card battlers. All of these have plenty in common; the hunt for the strongest and rarest cards, theorycrafting the strongest decks, pitting your creation against other players to see how it fares, and then you're back to square one when you get stomped by pros who have PhDs in the game. This aspect of card games make them one of the most competitive genres out there; also let's not forget, Clash Royal is technically a deck builder too, and it is one of the most competitive games on mobile.
However, there's a lot more to card games if you delve deeper, games from indie studios that experiment and combine card game mechanics with genres in a way you might never have thought possible. We'd probably never have known we could have a deck builder roguelike before Slay the Spire came along – which is obviously on this list. So without further ado, let's take a look at some of the best card games you can play right now. Not counting Solitaire.
Magic: The Gathering Arena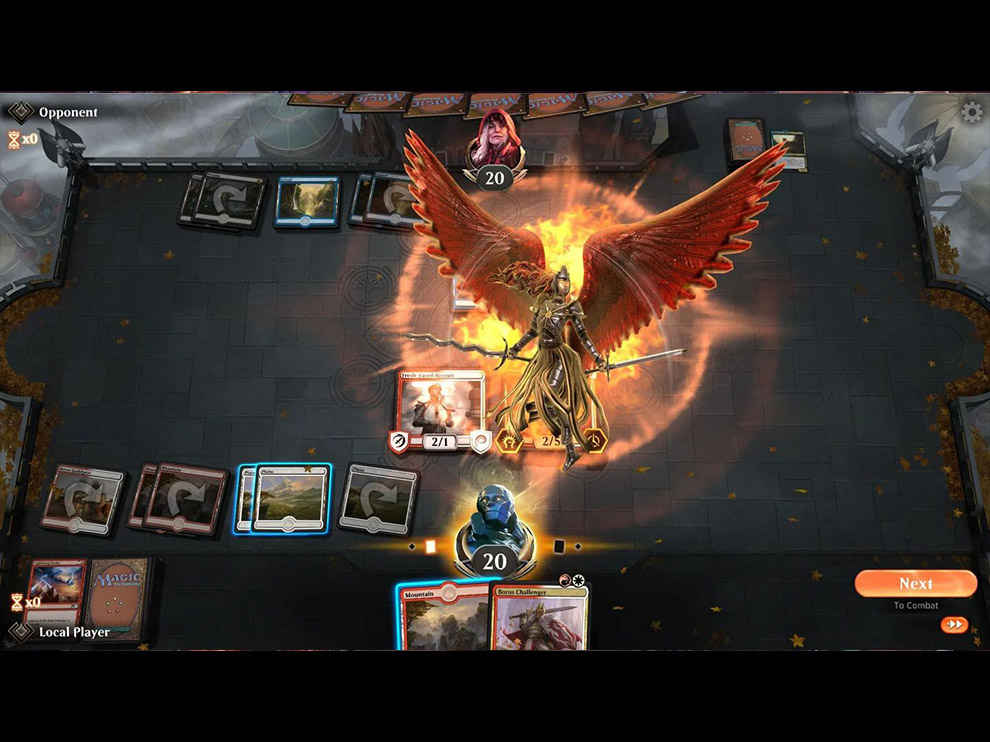 Magic: The Gathering is one of the most popular card games period. The game has been around for a long time, easily longer than anything else on this list. As a result, the game has been through a plethora of changes, with multiple formats and gameplay possibilities. Bring all of that possibility to a digital format, and you have Magic: The Gathering Arena, which pairs the game with the visual and animation overhaul you expect from a video game. It's a match made in heaven; who doesn't want to see iconic creatures and characters from fantasy come alive on their screen? What's more, it's a great place to find and compete against other players, a task that was otherwise rather tedious.
Legends of Runeterra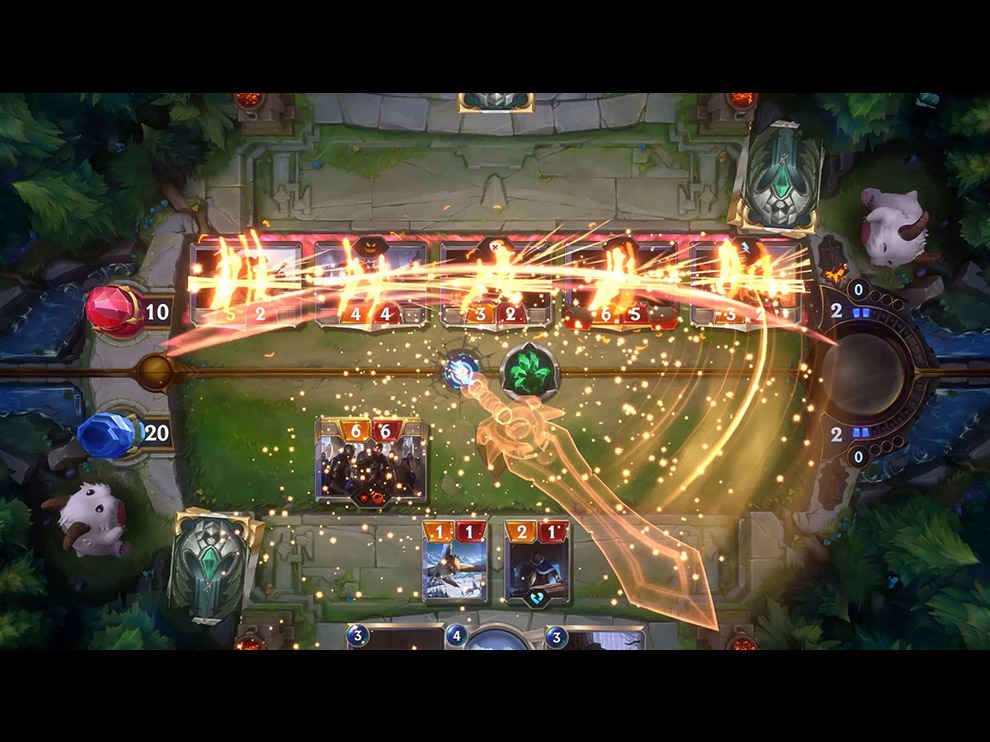 Riot Games' card game, Legends of Runeterra is in our opinion one of the best card games you can play. Being a bit late to the party, it's had a lot of examples to learn from, and as such it does a lot of things right. It's much easier to acquire the cards you want, and create the decks you want to, without relying too much on RNG, or luck. You can work your way towards the cards you want. While the game shares a lot of elements with other card games, it also has plenty of gameplay elements unique to itself, making for a familiar yet unique experience. Plus, if you're familiar with Riot Games' MOBA, League of Legends, Legends of Runeterra greatly expands on the lore from the game and brings more character and backstory to the characters from the MOBA.
Slay the Spire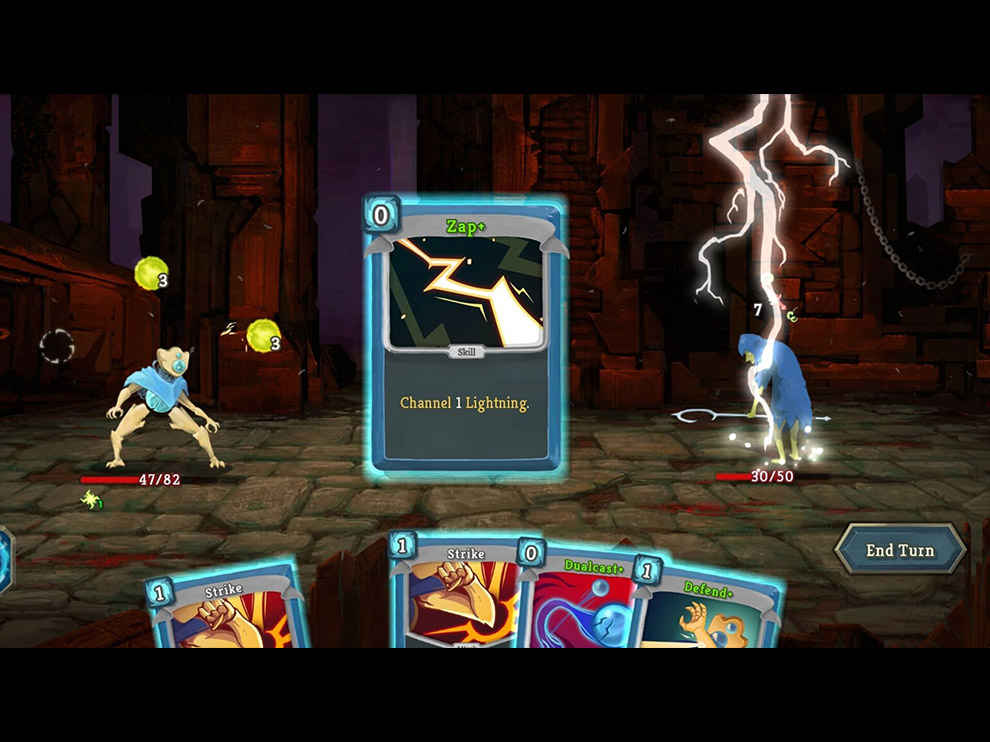 One of the prime examples of Indie genius, combining deck building with roguelike elements, is Slay the Spire. The goal of the game is pretty simple, make your way to the top of the spire. On your way to the top, you will be battling hordes of enemies and building your deck as you go. If you're beaten, you'll find yourself all the way back at the bottom. That's where the roguelike element kicks in, no two runs are the same. Meaning you need to rethink your strategy, and rethink the way you build your new deck. Simple goal, but certainly not simple to achieve. The game encourages experimentation with different builds and paths, you never know, the results could be unexpected.
Monster Train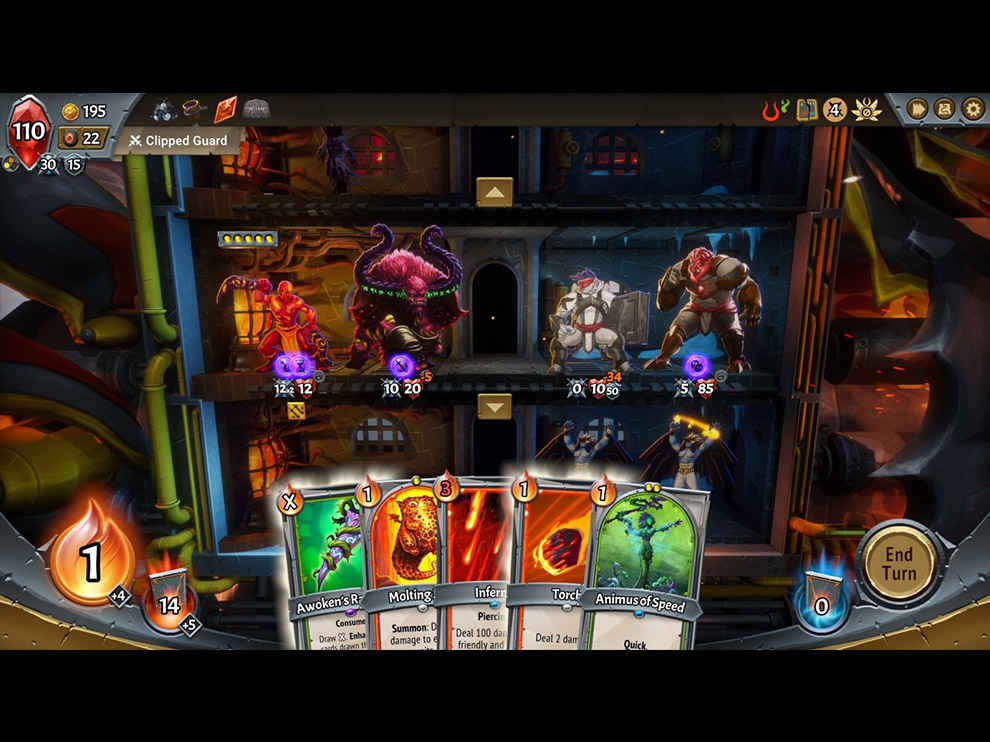 Another combination of the roguelike genre and card building, Monster Train has you take command over two out of five demon clans, a primary and secondary clan. This of course determines the kind of cards you'll have access to. In Monster Train, you're transporting the last burning pyre to Hell, which has frozen over, and this is the only way to save hell we guess? Your train has three floors, with the Pyre sitting on top, and you need to defend it from the armies of heaven. In a way, the game features tower defence elements as well, as the angels move a floor each round until they're defeated.

You can decide the course of the train which determines the bonuses you will get, and you can also upgrade your cards to create powerful combos.
Gwent: The Witcher Card Game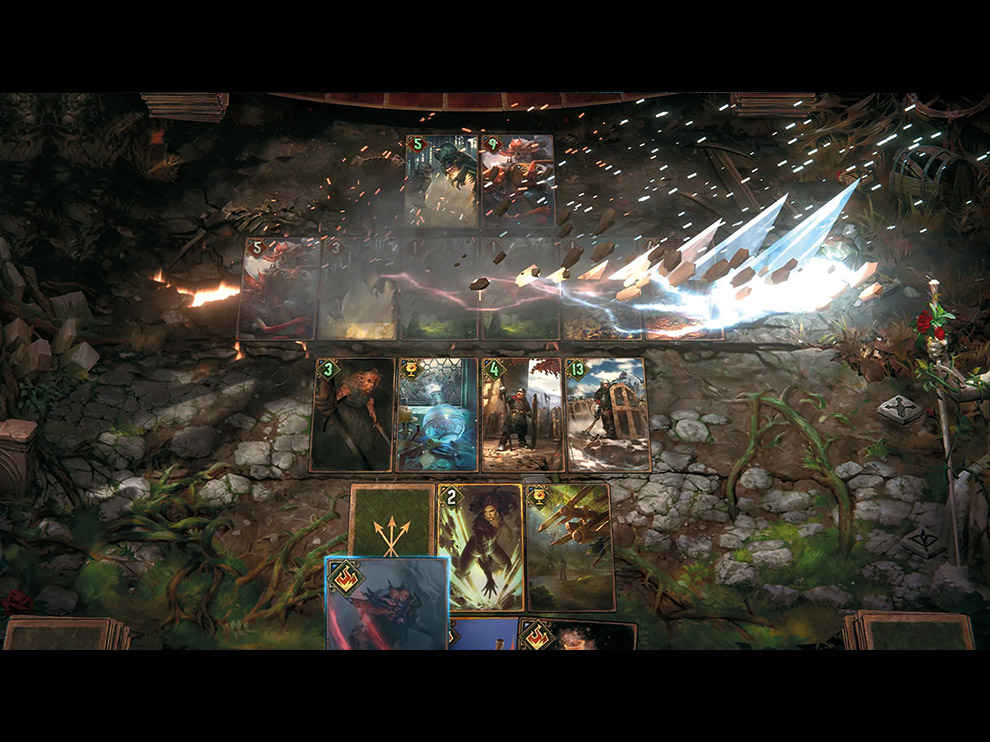 When the Witcher 3 dropped, we doubt anybody would have thought that they'd end up spending most of their time in-game playing Gwent. It was a great time sink within the game, building your deck and travelling to taverns around the land in search of powerful cards. Of course, it was a no-brainer for CD Projekt Red to then release Gwent as a standalone game. The standalone version of Gwent is slightly different from the version in The Witcher 3, and features a lot more spells, units and special abilities. There's a lot more content to learn and master, but hey, if we could do it once in The Witcher 3, we can do it again outside of it. Besides, the mechanics aren't all that complicated.
Hearthstone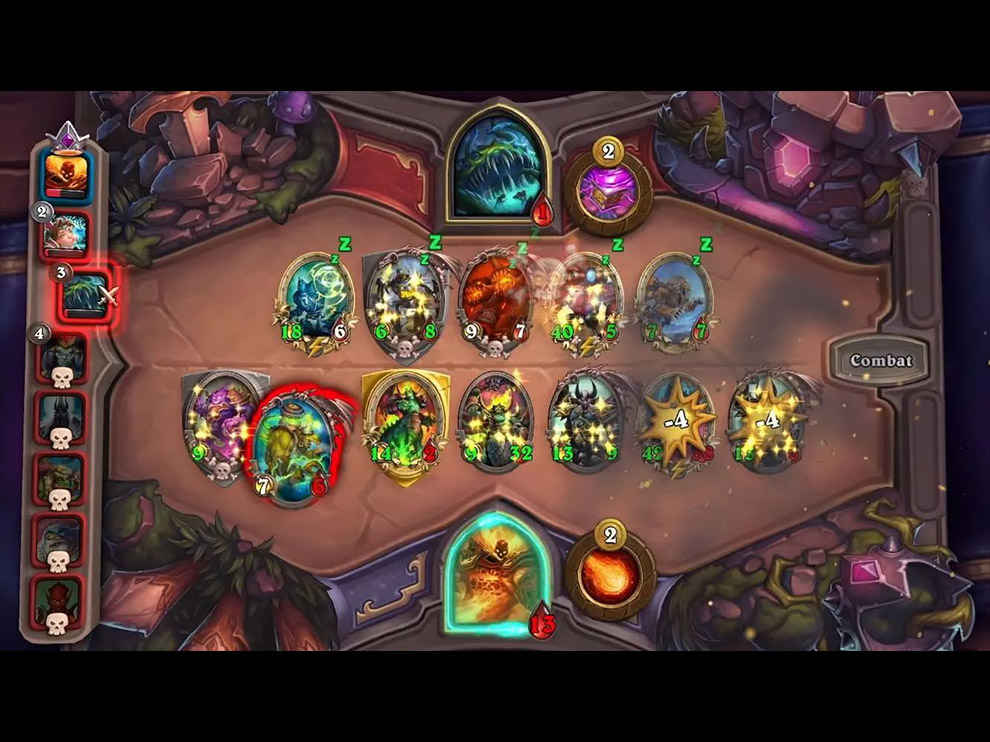 Probably the most well known CCG out there, Hearthstone single handedly put the deck building card battler genre on the map. Well at least, as a video game. It quickly became one of the most played games on the planet, especially during its peak. The game still has a dedicated player base and an active competitive scene.

What made the game so popular? It was simple and easy to pick up, it was charming and full of personality, and it got regular card expansions and events which kept things fresh.

There's also the fact that it's based on Blizzard's World of Warcraft, with plenty of familiar faces and new ones as well. The flavour text, the voice acting, the animations, the board, the expansions and card packs, it all just worked very well, and Blizzard had struck gold with Hearthstone.
Shadowverse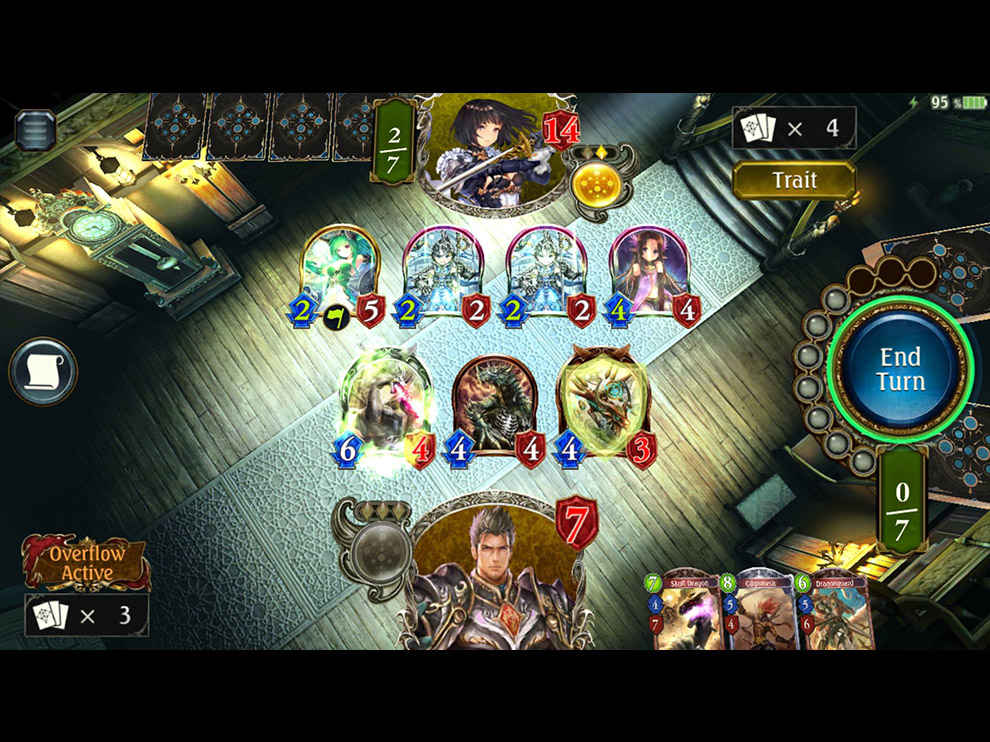 If warlocks and warcraft aren't quite your fancy, i.e., you're not quite into Blizzard's whole high fantasy shtick, then Shadowverse is a good alternative. When it comes to gameplay, Shadowverse is essentially identical to Hearthstone, however, the aesthetic is completely different. Instead of a western RPG aesthetic, Shadowverse uses a more Korean MMO anime-esque aesthetic. While gameplay is the same, Shadowverse does have some extra mechanics, such as evolution of cards, and powerful faction cards which can lead to some ludicrously powerful decks if you know what you're doing.
Faeria
Another brilliant merger of card game and strategy, Faeria is a card game where you build the board as you play. When the game starts, there are vacant tiles between you and your opponent. How you play is up to you, you can beeline to your opponent if you so please, or spread out and look for Faeria wells that are dotted across the map, which are the magical resource of the game. You will need them if you plan to play some of the more powerful cards in the game. Faeria is also very new player friendly, and encourages deck building from the get go, and makes the deck building process easier for new players. It encourages players to pick codexes, which are a collection of three cards that synergise. You build your entire deck out of these codexes so you're guaranteed to have cards that work well with each other. This method of deck building also makes it one of the more unique deck building mechanics on this list.
Griftlands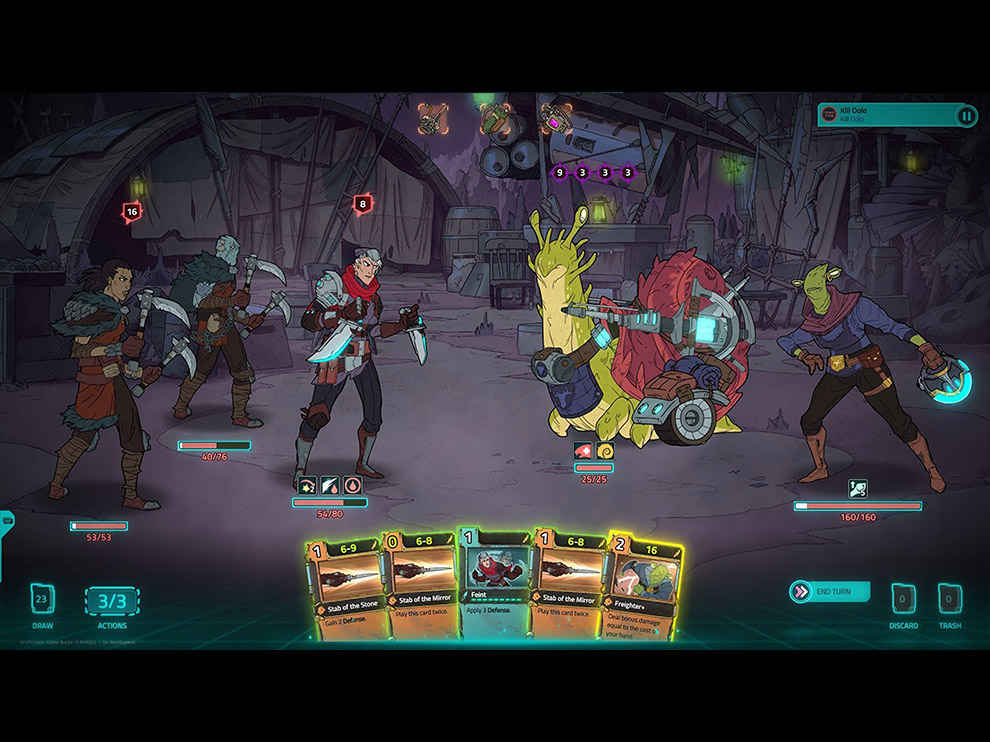 Combining RPG and deck building, all of the actions in Griftlands are determined by cards. From speech checks to combat moves, to currency and even character traits, it's all in the cards. As you progress through the game, you unlock more cards which in turn unlock more actions for your character. The game itself is charming and teeming with personality, and you can of course, start all over again and have a different experience, because the game has roguelike elements as well.
Card Hog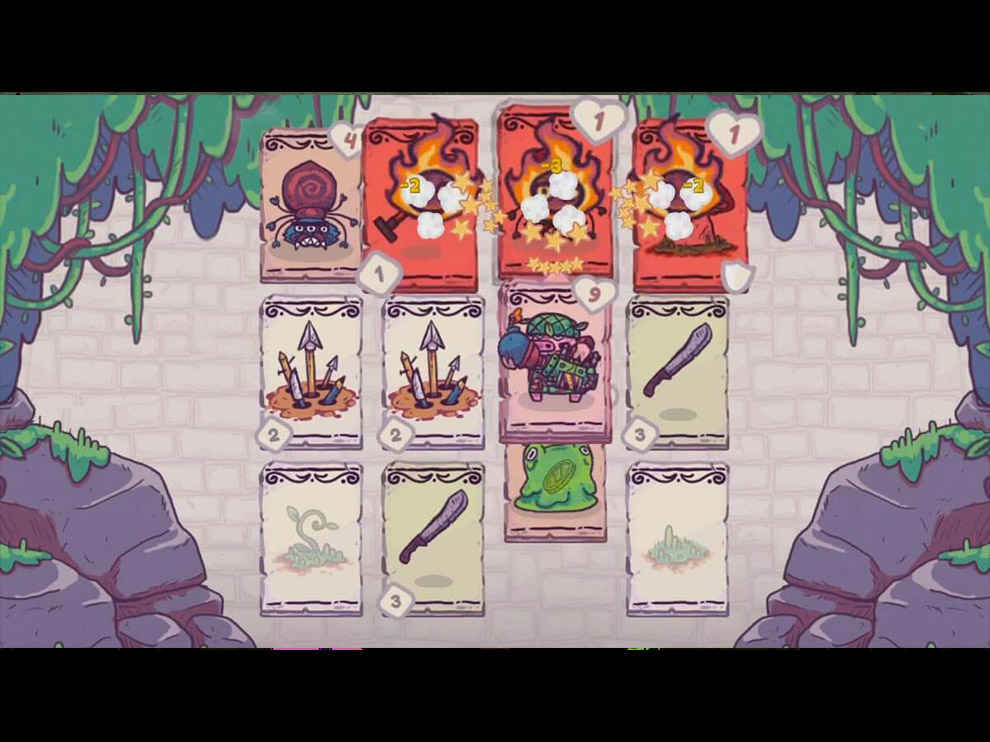 An interesting mix of card battler, dungeon crawler, and roguelike, Card Hog is an interesting card game where the cards on the table double as a map for your character to traverse. This traversal doubles as the deck building element as well, which is pretty darn creative. This new approach to deck building forces you to think and plan differently to traditional deck builders and card battlers. Maps are littered with enemies, weapons, loot and traps, how you navigate and build your deck is up to you.
SteamWorld Quest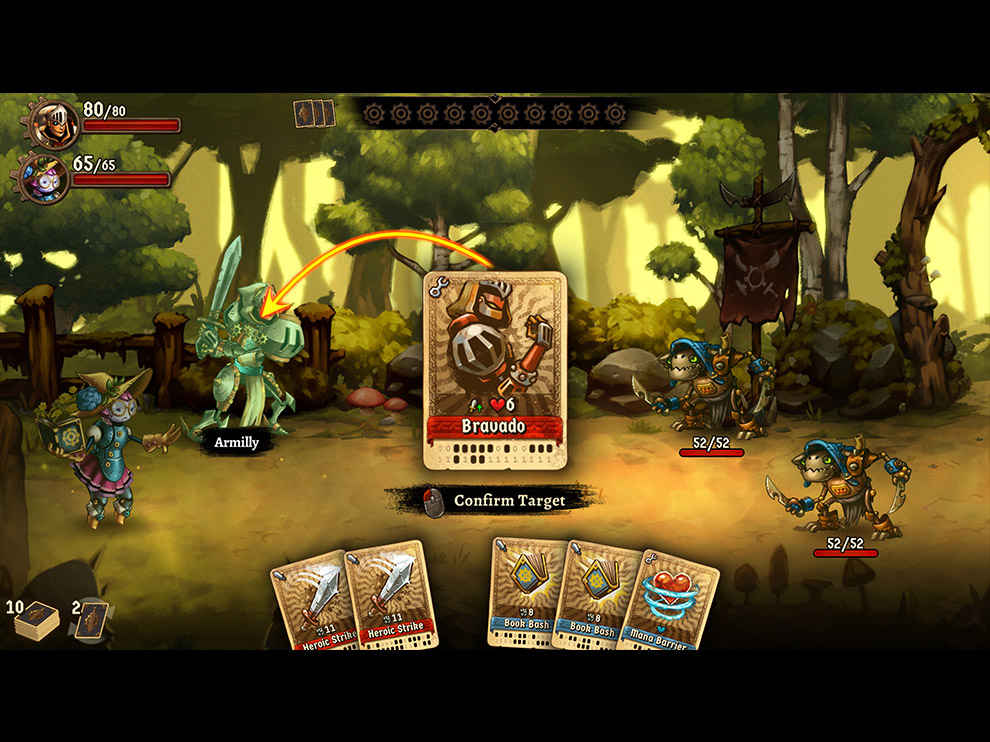 Take a turn based RPG and combine it with deck-building gameplay and you get SteamWorld Quest. This single-player game has you assemble a team of heroes with unique abilities, which are represented by cards. Unlike the more PVP focused card games on this list, SteamWorld Quest only has around 100 cards, but it's more than enough within the game's world. The game also avoids the usual RPG tropes; let's just say, the healer is not necessarily only good at healing.
Ancient Enemy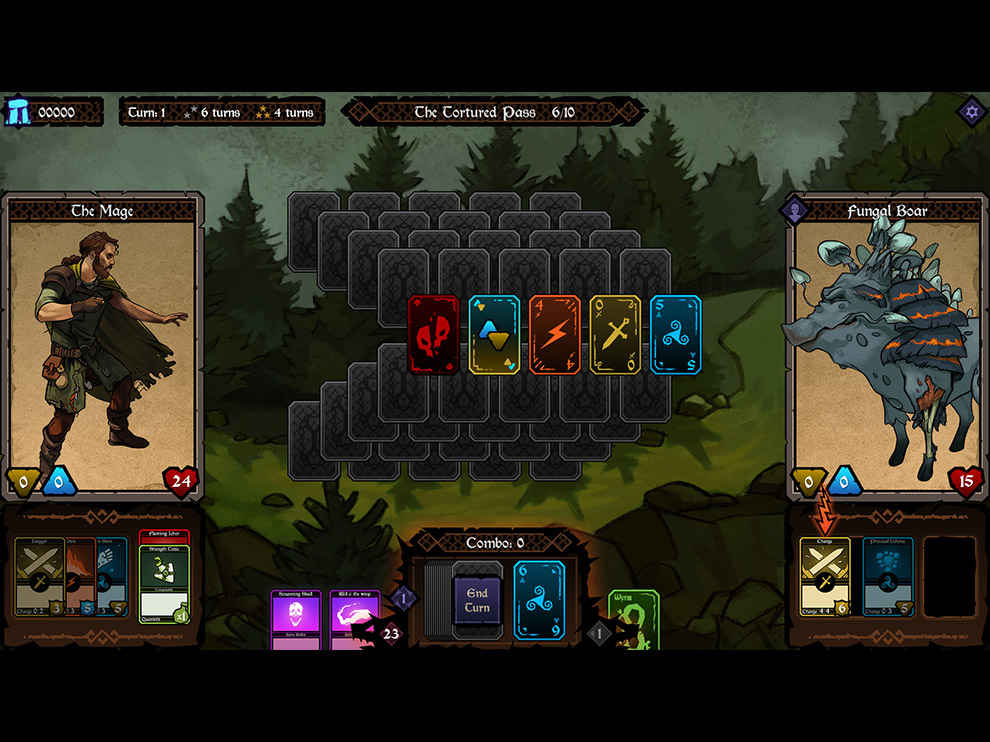 I know we said 'not including Solitaire' in the intro, but this is not exactly Solitaire. Okay it kinda is. Ancient Enemy is a blend of Solitaire with a turn-based combat system, puzzles, and an RPG. You take on the role of a mage who has awakened in a world that has been destroyed by evil. As you progress through the game and defeat increasingly challenging opponents, you acquire new cards which will help you take down the more stronger foes in the game. Developer Alien Games is known for blending Solitaire with other genres of games, their previous title, Shadowhand, is also worth checking out, but it's fairly similar to Ancient Enemy.
Gloomhaven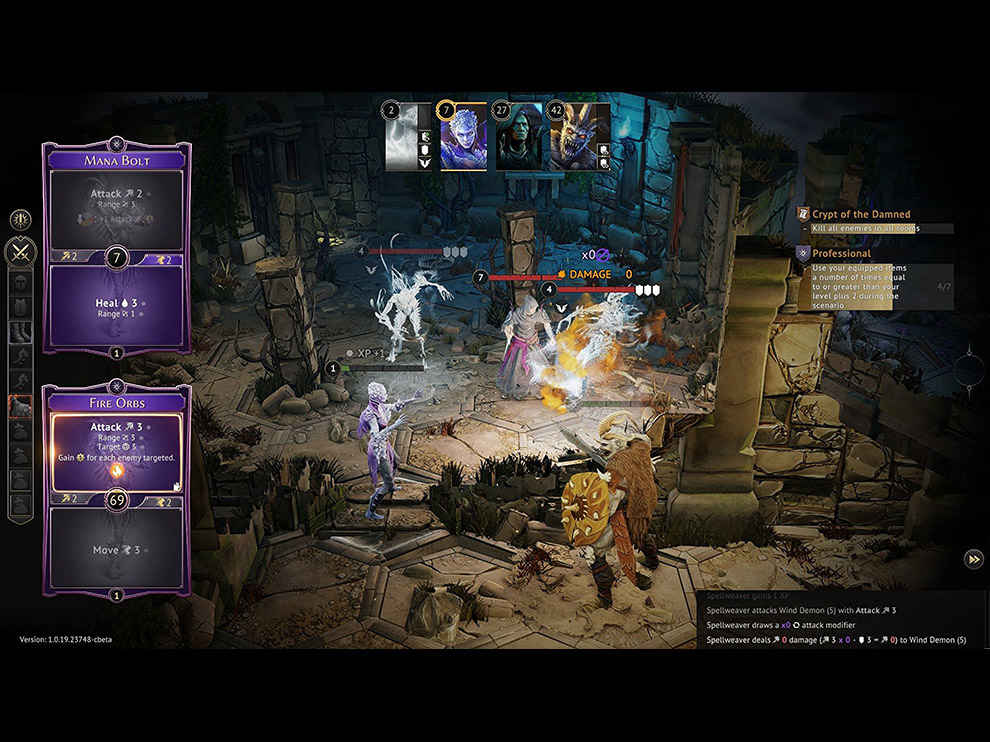 Like Magic the Gathering, Gloomhaven is a digital recreation of a tabletop game. The game itself is an amalgamation of turn-based, co-op, RPG, and strategy, with, of course, deck building. You crawl through dungeons facing a variety of foes, each requiring different strategies to take down. You earn new gear, loot and cards as you progress, and cards can even be modified. The best part about such games going digital is being able to find people from across the world to play with. This is a fairly accurate rendition of the board game, so the experience is the same, or only amplified by the visuals and animations.
There are a lot more creative uses of card game mechanics in other games too, of which we've missed many I'm sure. We tried to avoid games where the cards were a secondary mechanic, or not a core aspect of the game. That being said, do let us know what your favourite card-based games are.
Tags:
card games
card video games
deck builder games
collectible card games
hearthstone
legends of runeterra
gwent
magic the gathering
slay the spire