Another month, another list of games on the PlayStation Plus line-up of monthly games. But this time around, its a little different because unlike December's PlayStation Plus Essential tier games, which are available for all PlayStation Plus subscribers, the Game Catalog's downloadable PS4 and PS5 titles are available only for subscribers who have the PlayStation Plus Extra, and PlayStation Plus Premium memberships.
The List of Games to be Added in December
There are a lot of new games that will be coming to PlayStation Plus this month, and there are some pretty big names to be found. This month will also see the addition of some classic PlayStation titles from the PS1 and PS2 eras.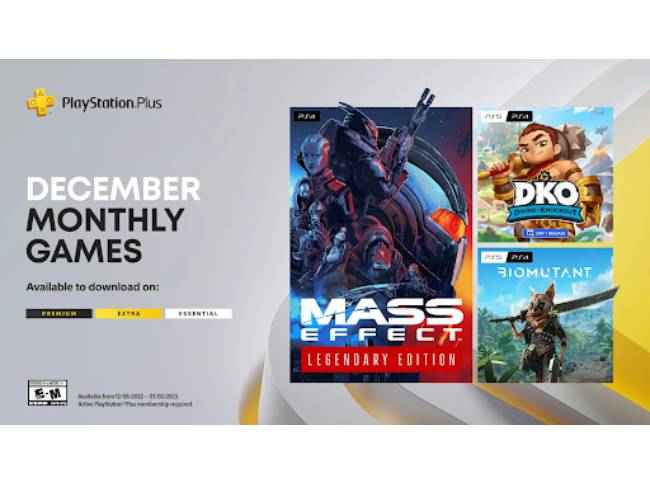 The list of games is as follows:
PlayStation Plus
Mass Effect: Legendary Edition (PS4)

Divine Knockout (PS4, PS5)

Biomutant (PS4, PS5)
These games are currently live on PlayStation Plus.
PlayStation Plus Extra and Premium Game Catalog
WWE 2K22 (PS4)

Far Cry 5 (PS4)

Far Cry New Dawn (PS4)

Far Cry Primal (PS4)

Mortal Shell (PS4, PS5)

Judgement (PS4, PS5)

Yakuza: Like a Dragon (PS4, PS5)

Yakuza 6: The Song of Life (PS4)

Middle Earth: Shadow of Mordor (PS4)

Middle-Earth: Shadow of War (PS4)

The Pedestrian (PS4, PS5)

Evil Genius 2 (PS4, PS5)

Adventure Time Pirates of the Enchiridion (PS4)

Ben 10: Power Trip (PS4, PS5)

Gigantosaurus The Game (PS4)

Pillars of Eternity II: Deadfire – Ultimate Edition (PS4)

Worms W.M.D (PS4)

The Escapists 2 (PS4)

PlayStation Plus Premium Classics

Ridge Racer 2 (PSP)

Heavenly Sword (PS3)

Oddworld: Abe's Exoddus (PS1)

Pinball Heroes (PSP)
All of the games listed here will be available to play to the subscribers from December 20th, with the exception of WWE 2K22, which will be available on January 3, 2023.
For everything geek and gaming, keep it right here at Digit.in.