WWE is a sport that is quite close to my heart. So obviously, I have loved wrestling video games. I have fond memories of WWF Wrestlemania on the NES, WWF Wrestlemania: The Arcade Game on the Sega Genesis, and more recently, the Raw vs Smackdown series. However, I wasn't a big fan of the series' lean towards simulation-style gameplay. Then we had WWE 2K18 on Switch, followed by WWE 2K20… Needless to say, I thought the franchise was done with.
But after a brief hiatus, 2K and Visual Concepts are back with WWE 2K22. With a tagline like 'It Hits Different', you know that they really want to make you forget the past few years. Do they succeed? Let's find out.
WWE 2K22 Graphics and animation
With WWE 2K22, Visual Concepts seem to have outdone themselves. The Superstars look more realistic than ever. The team has done a commendable job of making them look more real. This includes their muscles, as well as sweat/baby oil glistening off them. Even facial expressions look pretty good, although it's nowhere close to the level of most other AAA titles. But it is still miles ahead of WWE 2K20.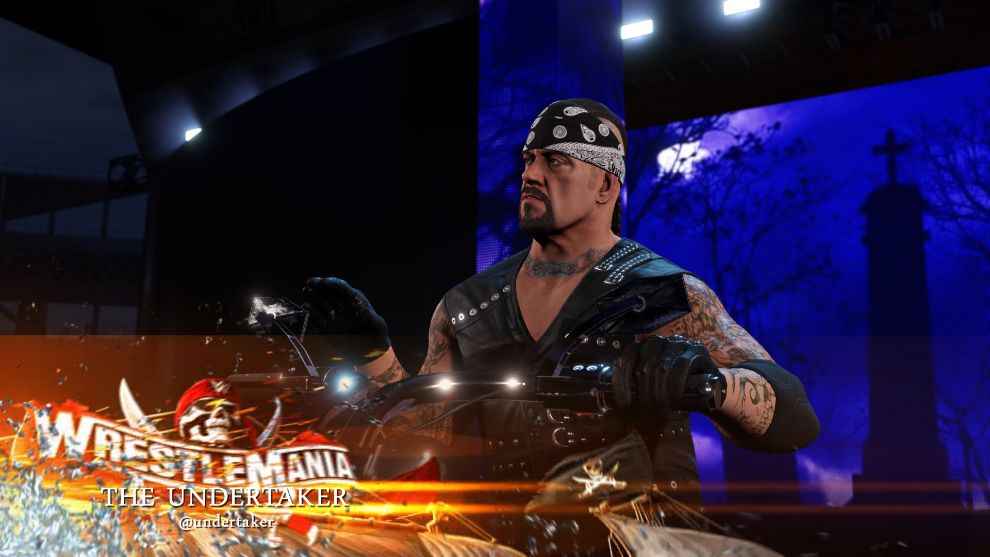 A personal pet peeve of mine was the hair in WWE games. The developers could never seem to get it acting like actual hair. The way it moved seemed almost unnatural. The hair in WWE 2K22 is much better, although it still isn't perfect. 
Another area that definitely needed an overhaul was the animation. Thankfully, Visual Concepts have reworked the game engine from the ground up. The results are quite evident with 'meaty' hits and falls. The reversal animations are also well done and many of them seamlessly blend in with the action. There have been moments I was genuinely surprised when my move was reversed when I was sure I had executed it.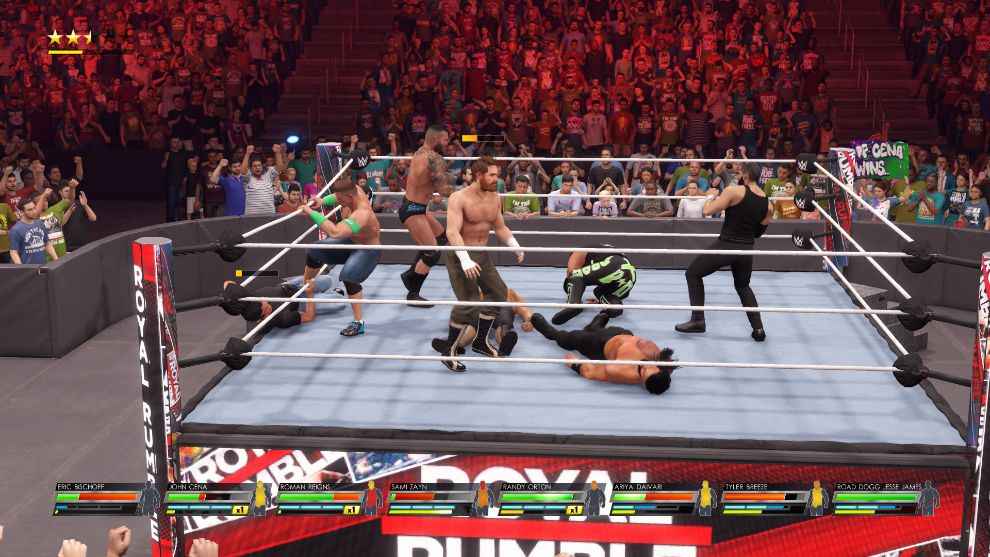 But, while most issues have been squashed, there are some that rear their head once in a while. There have been times when a move fails to connect, which given the nature of the gameplay, can be a costly miss. Then there is the camera, which works fine most of the time, but tends to get caught behind foreground objects. This combined with the fact that objects in the foreground do not become transparent when the wrestlers are behind them means that the action can be hidden.
WWE 2K22 Controls and Gameplay
WWE games have to straddle the line between arcade and simulation-style gameplay. To my joy, WWE 2K22 leans more towards the arcade-style. The basic controls are quite simple with one button each for light strikes, heavy strikes and grapples. You then combine these in different ways to pull off moves, similar to a combo from a fighting game. There is also a separate button from blocking and reversals. Holding it down blocks an attack while tapping it at the right moment can cause a reversal. But if you miss a reversal, then you'll have to endure the complete combo before you can reverse again. Unless you can guess your opponent's next button press, which can cause a reversal. But in this case, you won't be getting any prompts.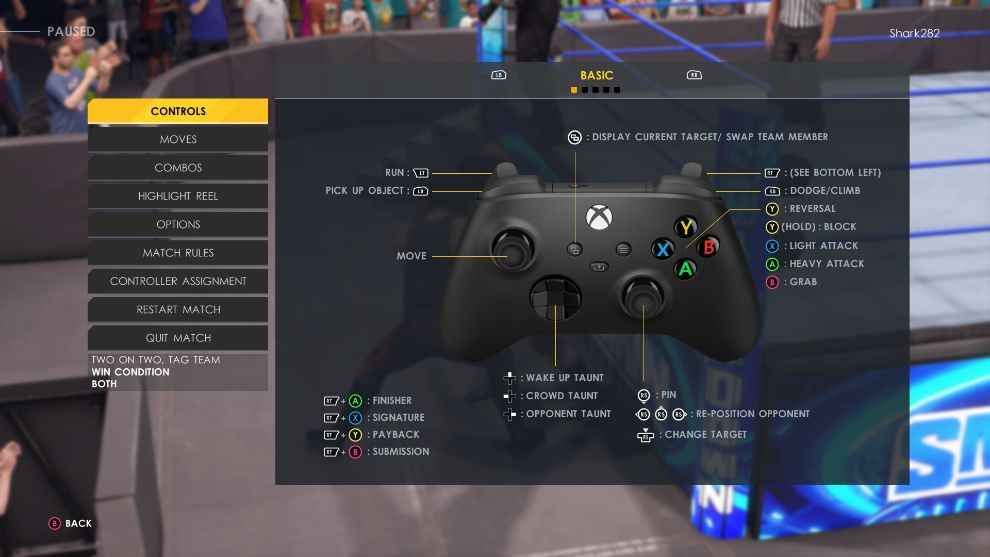 Of course, it does get more complicated than this, which should please veterans who can pull off some impressive moves. But this simple setup means that anyone can pick up and play a match. My fiancé was able to pick up a controller and enjoy a quick tag-team matchup.
The gameplay in WWE games is quite varied, which is a good thing considering how varied a typical WWE show can be. WWE 2K22 offers plenty of match type options ranging from Backstage Brawls to Hell in a Cell to Elimination Chamber. However, it's still missing some classic, albeit niche, match types such as Buried Alive, Inferno Match, Casket Match, Lumberjack Match. These would have really upped the ante. 
Aside from your standard match types, WWE 2K22 also offers different game modes. This includes the popular Showcase mode, MyUniverse, MyFaction, and MyGM mode.
WWE 2K22 MyFaction
MyFaction is WWE's take on similar card-based modes such as FIFA Ultimate Team. You collect cards to create a stable of four Superstars. Your aim is to create the most powerful and effective combination. Honestly, I am absolutely apathetic to all such card modes. The closest I ever got to one is when a friend of mine asked me to open a FUT bundle for him. As such, I am genuinely not the right one to talk about MyFaction. Is it good? Is it bad? I honestly cannot tell you. Please accept my heartiest apologies if you really wanted to know about MyFaction, and nor do I want to pass judgment/opinion on a mode that I am not familiar with. But that's enough about my shortcomings as a game reviewer, moving on to other modes. 
WWE 2K22 MyGM
The MyGM mode is one I was looking forward to. The mode has been missing since Raw vs Smackdown and as the name would suggest, lets you take charge of either RAW, Smackdown, NXT or NXT UK. There are also five GMs to choose from. This includes Adam Pearce, Sonya Deville, William Regal, Shane McMahon, and Stephanie MacMahon. You also get the option to have a custom GM.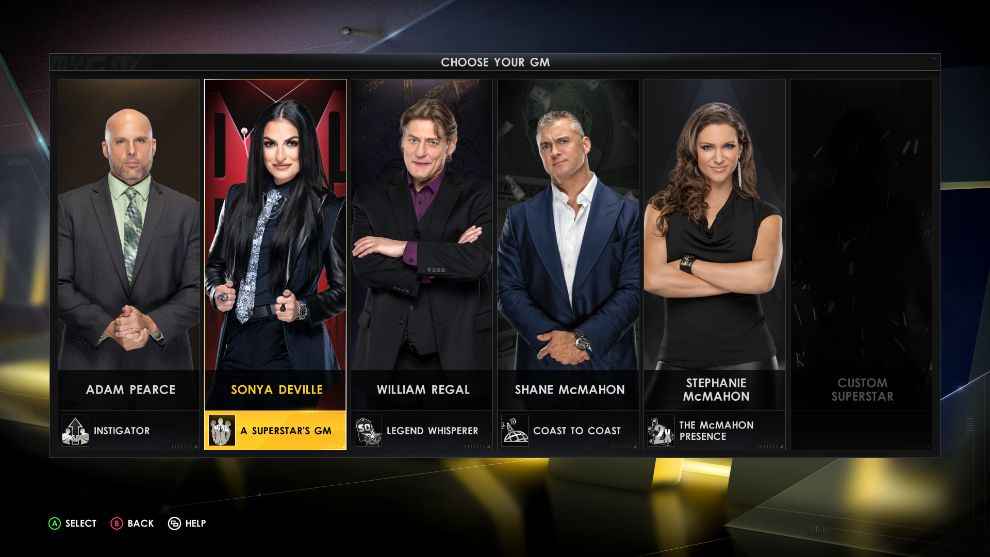 Each GM gets unique cards that give them special cards that grant unique abilities. For example, William Regal can hire a WWE Legend for free, while Adam Pearce can increase the rivalry level between two Superstars. These cards can be used once and more can be earned by completing special objectives during the mode. 
The mode sees you set up three matches. An opener, a mid-card and the main event. You can choose match types as well as set up things such as interferences. Between matches, you can also set up promos that can do anything from increase rivalry between two Superstars to increasing the popularity of said Superstar. You also set up where you want the match, level of pyro, and so forth. This increases the overall quality of your show. Of course. Doing all this costs money and you'll have to find the right balance in order to ensure you stay in the green.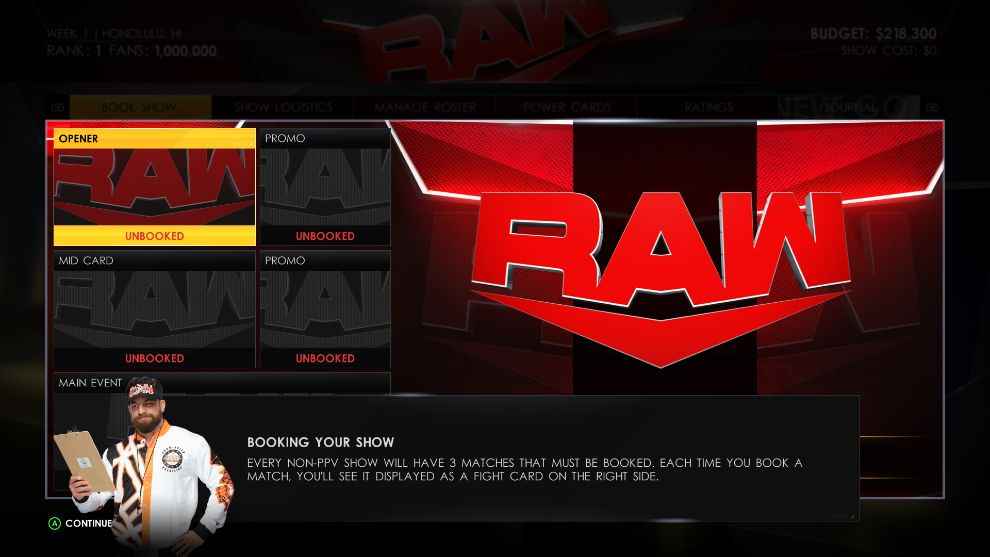 While the mode is a bit niche, it can be fun. My only concern was that it felt so limited. For example, you can only assign two champions. One male and the other female. Midcard championships such as the Intercontinental championships and even tag team championships are not available. Further, match type options are limited. So I cannot have mixed tag team matches, triple threat matches or fatal 4-ways. 
WWE 2K22 MyUniverse
The MyUniverse mode gives you access to WWE shows as a whole. Here you can edit entire shows. This includes the roster of Superstars, the number of matches in each show, the championships in them, the divisions and even power rankings. You can even create whole new shows if need be. And if you want, you can even partake in promotions. You don't have to worry about any emails or keeping your Superstars happy. Visual Concepts needs to find a way to merge the management level of MyGM with the flexibility of MyUniverse.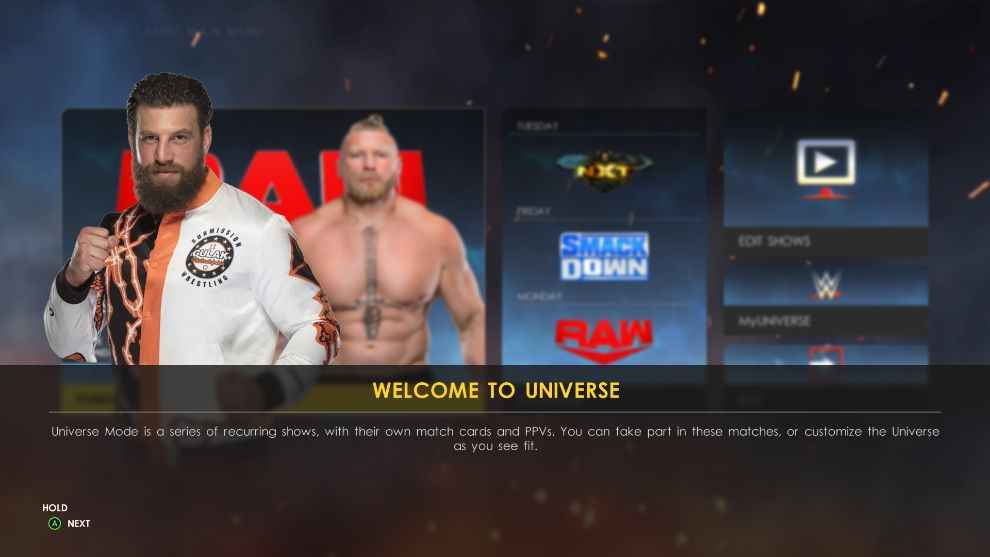 WWE 2K22 MyRise
MyRise is WWE 2K22's take on a career mode and it is pretty expansive. You get to create your own wrestler and go through the whole process of becoming a WWE Superstar. This includes going through developmental, meeting other trainees and participating in matches. You partake in matches by talking to other people, or via your in-game social media account. Each choice you make impacts the course of your wrestling career. The mode itself is pretty straightforward. Talk to someone, and they will tell you something to do.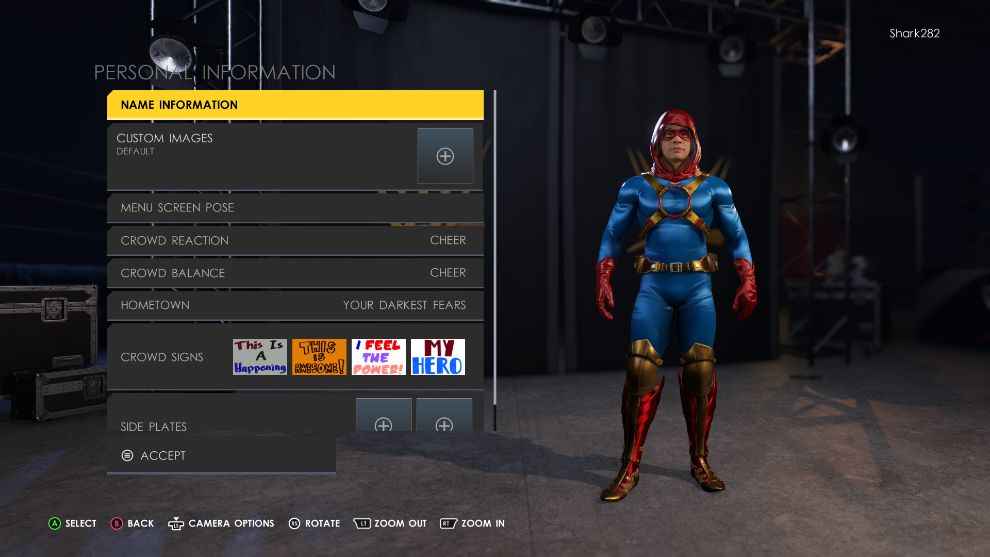 The only issue is that the mode feels slightly sterile as you don't get to roam about meeting your fellow wrestlers or exploring locations. Your character stays rooted to a single spot, while the other characters stand around. You simply swipe through to find the NPC you want to talk to. You can also access your smartphone to open your social media account to talk to other wrestlers and access other matchups.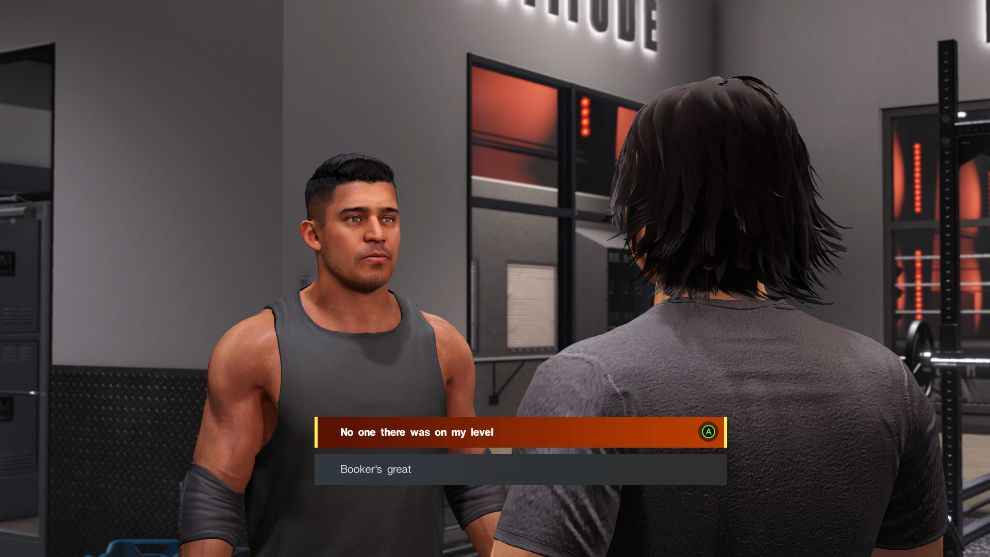 WWE 2K22 Showcase
Showcase mode has been a highlight of WWE games and in WWE 2K22, you get to play some key matches in the illustrious career of Rey Mysterio. As with other modes, these matches will include certain objectives you will have to fulfil in order to stay in sync with what happened in those matches. At certain points in the match, there will be an in-game cutscene with Rey Mysterio narrating the events. These cutscenes also feature transitions to the actual matches, which lets you appreciate the work the developers put into this mode.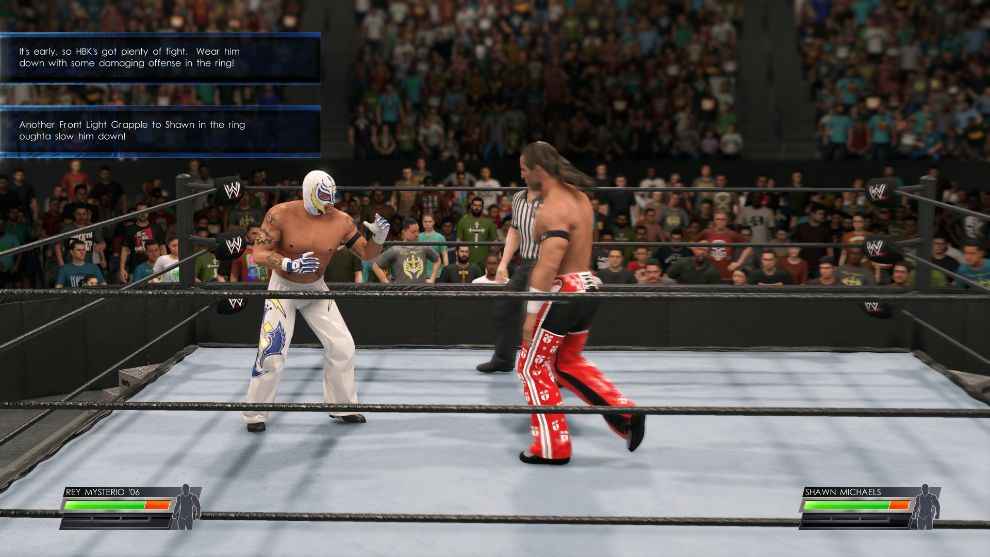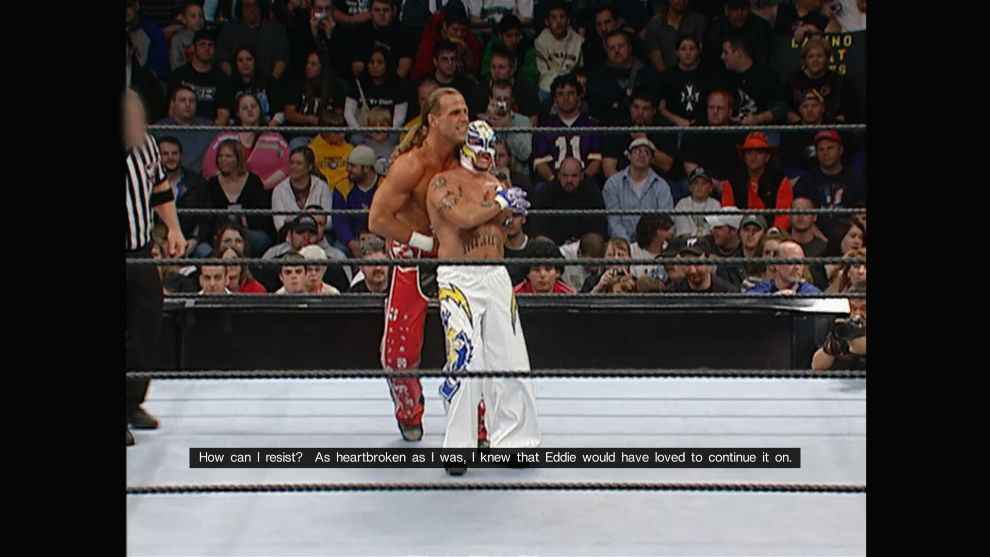 The only issue I seem to have with the Showcase mode is that there are way too many objectives to complete. There are 12-15 objectives for each mode and you have to go through them in order, in one go. And there is no mid-save. For example, in the match against Kane, the final objective was to hit him with a steel chair. The computer reversed, stole my chair, hit me on the head, hit me with a finisher, and boom… I lost and now I had to start all the way back from the beginning. Moments like these, combined with times when a particular move does not hiit, can be quite frustrating. 
The mode seems to skip through some key matches in the career of Rey Mysterio such as those with Psychosis, his Royal Rumble victory, the triple threat match against Randy Orton and Kurt Angle where he won the Heavyweight Championship for the first time. The list goes on… These were removed as many of the wrestlers have since departed the company, but maybe WWE could have acknowledged that in the game. But you can't really blame Visual Concepts here.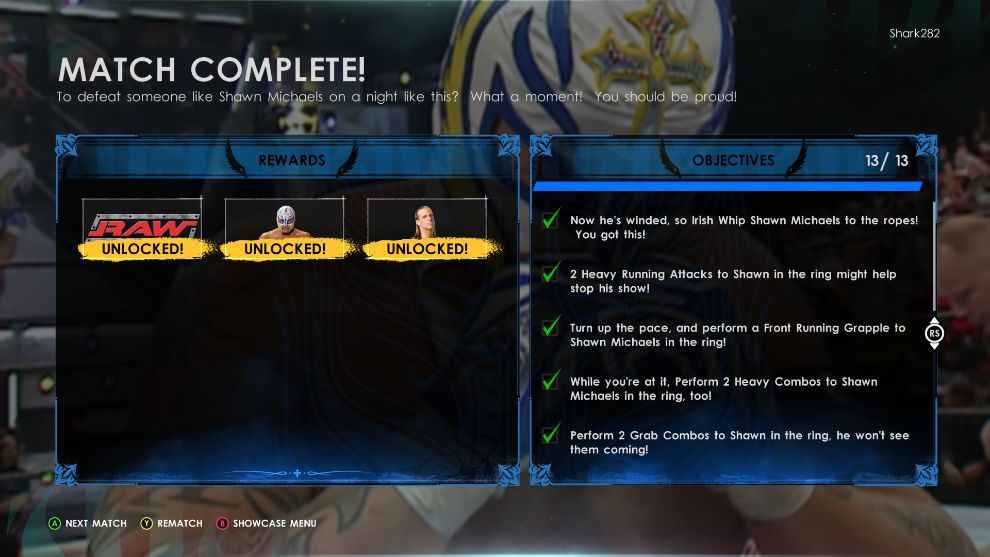 WWE 2K22 Roster
Speaking of which, the WWE has gone through some pretty notable changes in its roster over the past few years. Many big names have since moved to AEW. Regardless, WWE 2K22 still has a very decent selection of names to choose from. These include the latest generation of superstars as well as some notable legends. As such, no matter which era of WWE you prefer, you should find names you are familiar with.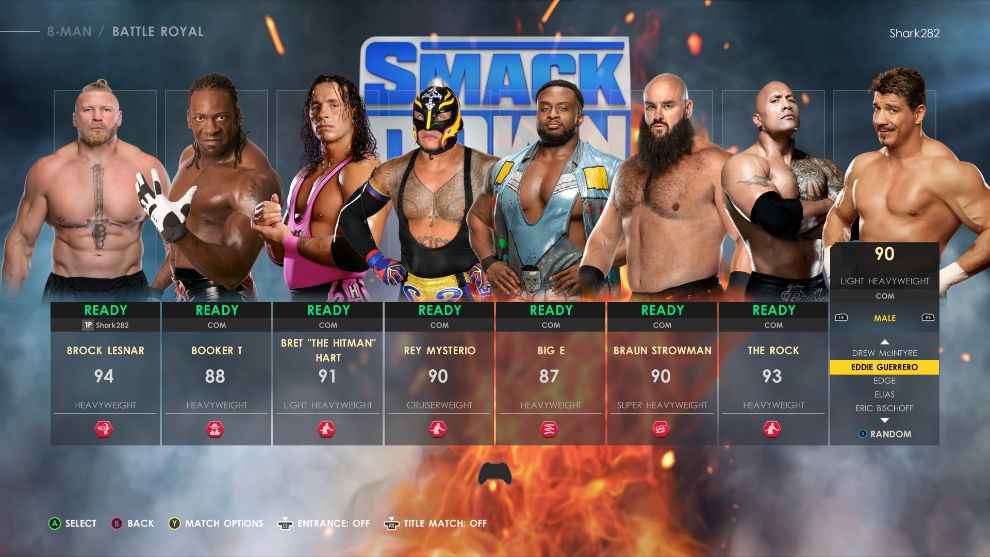 The problem is that WWE 2K22 still uses that 'menu-style' of choosing wherein you only see 4-5 names at any given time. This makes scrolling through the entire roster quite annoying. Not to mention that there are multiple eras of certain wrestlers such as Rey Mysterio and the Undertake which take up more space. I wish Visual Concepts could present the roster in a similar way to a fighting game. That would allow players to fully appreciate the options available.
Commentary and audio
The commentary on matches is pretty decent. But I would have preferred a bit more excitement and back and forth banter between the presenters. But for the most part, it is serviceable. Also, it should be noted that Showcase mode does not have any commentary at all. As far as the music selection goes, it is a bit of a hit-or-miss. You are better off heading to the settings and choosing the entrance music of each of the specific Superstars. That genuinely makes the music feel more apt for a WWE game.
WWE 2K22 Verdict
WWE 2K22 rights the wrongs of WWE 2K20. It is an improvement in almost every way and makes a case towards having a longer development cycle for the series. The graphics are better, the action is more intense and there are more options to choose from. The lean towards arcade-style wrestling makes it more welcoming towards newcomers, while long-time players would still feel right at home. 
However, things aren't perfect. While most bugs have been ironed out, there are still a few I encountered. The new Showcase, MyRise as well as MyGM modes are fun but feel limited. Visual Concepts have definitely created a very good game, but it isn't quite the 'Phoenix rising from the ashes' story. 
Nonetheless, with WWE 2K22, Visual Concepts have set a very good base from which they can build future WWE games. But this does not mean they can let off the accelerator. Just like in real life, AEW is out to challenge the WWE. It is also planning to release its own game developed by former WWE games developer, Yuke's, who has been making wrestling games for decades. Let the match begin!
SKOAR: 7/10
Moar:

Developer: Visual Concepts

Publisher: 2K

Platform: iOS

Review platform: PC, PlayStation 4, PlayStation 5, Xbox One, Xbox Series X/S

Price: Rs 3,299 (Steam), Rs 3,999 (PS4), Rs 4,399 (PS5), Rs 3,999 (Xbox One), Rs 4,399 (Xbox Series X/S)
We played a review copy of WWE 2K22 on the Xbox Series X