Microsoft has made a couple of exciting announcements for its gaming user base. First, it has discounted the Indian pricing of Xbox Game Pass, PC Game Pass, Xbox Live Gold, and Game Pass Ultimate. Indian gamers can soon enjoy the PC Game Pass, Xbox Game Pass, and Xbox Live Gold for a monthly price of ₹349 and the Ultimate Game Pass at ₹499 per month. As HT Tech notes, the renewed prices will be effective from April 2022 only. So, if you go to Xbox website now, you won't see this, but the special pricing it had offered in October 2021 to allay the Reserve Bank of India's recurring payments rule. Anyways, the second interesting piece of news is that now Steam Deck supports Xbox Game Pass. We'll also see how you can experience this.
Let's begin with the Game Pass subscription price in India.
New Microsoft Game Pass Plans in India 2022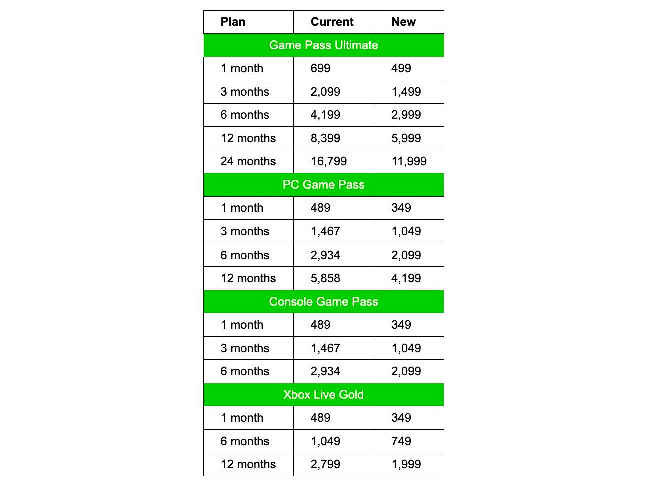 Microsoft Game Pass Plans Pricing 2022
Under the new pricing, the PC Game Pass starts at ₹349 for 1 month, ₹1049 for 3 months, ₹2099 for 6 months, and ₹4199 for 12 months.

Xbox Game Pass begins at ₹349 for 1 month, ₹1049 for 3 months, and ₹2099 for 6 months.

Xbox Live Gold starts at ₹349 for 1 month, ₹749 for 6 months, and ₹1999 for 12 months.

Finally, the Ultimate Game Pass would cost you ₹499 for 1 month, ₹1499 for 3 months, ₹2999 for 6 months, ₹5999 for 12 months, and ₹11999 for 24 months.
How to run Xbox Game Pass on Steam Deck
Microsoft has released a custom version of Edge browser (Linux-based) for Steam Deck. The company also recommends you connect a mouse and keyboard to your Steam Deck or use the touch keyboard along with the touch display or trackpads. This is in order to do the various steps mentioned below:
First, you have to install Microsoft Edge (Beta) on Steam Deck

Once Edge beta is installed, right-click on it and add it to Steam.

Then, as this official guide from Microsoft notes, you have to do certain commands, edit properties, configure controls and add an icon, banner, capsule, and update recent games. It'll all make sense in the said article.
For more news, reviews, features, buying guides, and everything else tech-related, keep reading Digit.in.
Tags:
Microsoft
Xbox Game Pass
PC Game Pass
Xbox Live Gold
Ultimate Game Pass
Game Pass Ultimate
Xbox
Steam Deck
Microsoft Edge